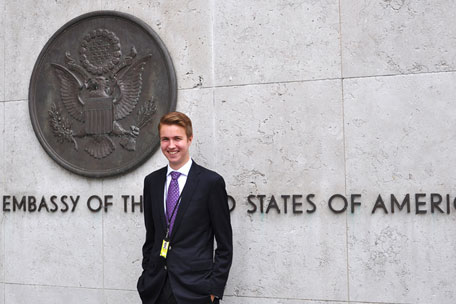 Peter Jorgensen '16 at the U.S. Embassy in Copenhagen, Denmark.
Taking on the world: politics is just the beginning
As deep as his interest runs in world politics, Peter Jorgensen '16 says he couldn't take studying only that subject or its close relatives. Jorgensen is a world politics major with an English minor and a possible second minor in French.
More >>
"I get the whole world: I've taken an environmental studies class, I've taken a physics class, I've taken all the English classes in the world. My favorite professor at Hamilton is an English professor, " says Jorgensen, who is spending his junior year in the General Course at the London School of Economics. Just before that, he interned for the summer with the U.S. Foreign Commercial Service at the U.S. Embassy in Copenhagen.
Hamilton world studies professors, he says, give students the freedom to construct their best and most interesting arguments, which inspires him to excel. "You kind of take yourself out of your shoes and think in a different way, and I think that's the best part of the world politics program here," Jorgensen says. "Because it's always very interesting, it's always very much a new day. You never get the same thing twice." To Jorgensen's surprise, he's made the dean's list every semester.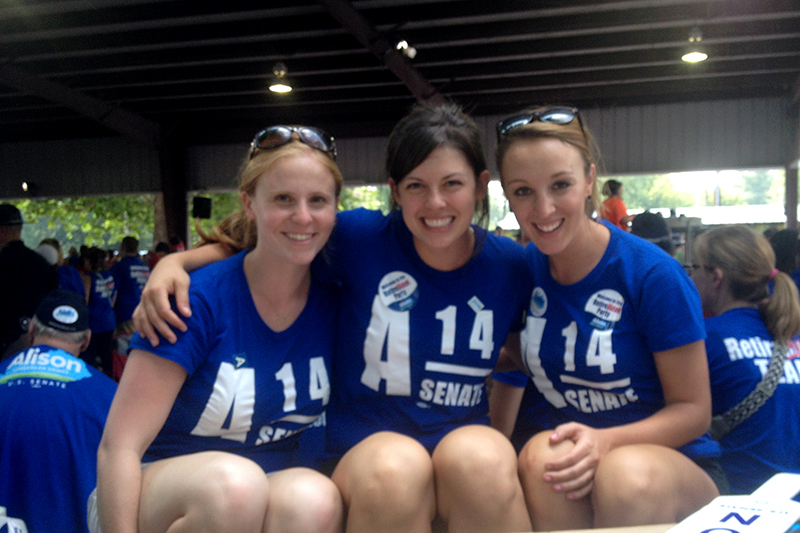 Ellen Esterhey, center, on the campaign
A graduate's progress: a stint in high-profile politics
Ellen Esterhay '14, who double-majored in world politics and Chinese, went from Hamilton to a position in a high-profile, high-pressure political campaign. She landed an internship, than a job as a press assistant, in Kentucky Secretary of State Alison Lundergan Grimes' effort to unseat Senate Minority Leader Mitch McConnell. Her candidate lost, but Esterhay loved the experience. "I think working a campaign can be pretty grueling, but it's really great knowing you're going to work every day doing something that you believe in," she says.
More >>
Esterhay studied abroad in Hamilton's program in Beijing and wants to return to China. Her longer-term goal is a career, maybe in government or foreign polity, in which she can use her Chinese language. She feels prepared for whatever. "I didn't fully realize everything my time at Hamilton gave me until I left," she says. "As a student at Hamilton, in everything you do, you're learning how to problem-solve, how to adapt and pick up things quickly and to write - especially learning how to write."