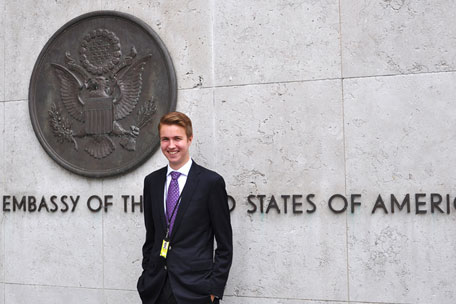 Peter Jorgensen '16 at the U.S. Embassy in Copenhagen, Denmark.
Taking on the world: politics is just the beginning
As deep as his interest runs in world politics, Peter Jorgensen '16 says he couldn't take studying only that subject or its close relatives. Jorgensen is a world politics major with an English minor and a possible second minor in French.
More >>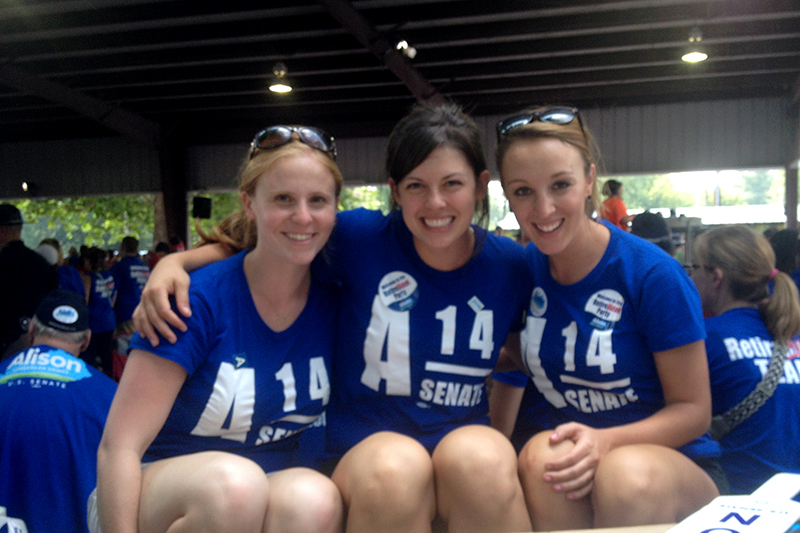 Ellen Esterhey, center, on the campaign
A graduate's progress: a stint in high-profile politics
Ellen Esterhay '14, who double-majored in world politics and Chinese, went from Hamilton to a position in a high-profile, high-pressure political campaign. She landed an internship, than a job as a press assistant, in Kentucky Secretary of State Alison Lundergan Grimes' effort to unseat Senate Minority Leader Mitch McConnell. Her candidate lost, but Esterhay loved the experience. "I think working a campaign can be pretty grueling, but it's really great knowing you're going to work every day doing something that you believe in," she says.
More >>