Jeremiah Lowe '15 (right) and Alicja Zak '15 in Mallorca, during his study abroad in Spain.
A student's goal: speaking Spanish, practicing medicine
When Jeremiah Lowe '15 toured Hamilton, the fall foliage was blazing, the science center was new and the curriculum was open – and he learned about a study program in Madrid in which he could live with a family and speak nothing but Spanish. Lowe had found his college. He is now a Hispanic studies major and biology minor who plans to go to med school.
More >>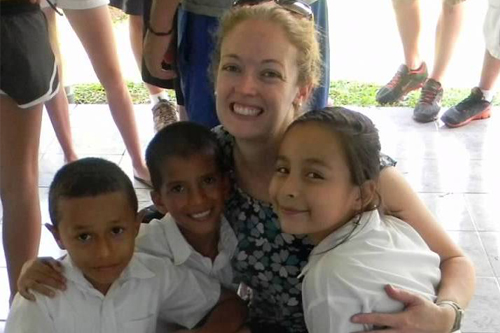 Amie Johnson '04 on a trip she took with her high school students to Costa Rica.
A graduate's progress: teaching what she loves
Amie Johnson '04 studied Spanish at Hamilton College because language was something that she loved. Now, as a Spanish teacher at a high school just down the hill from campus, she tries to spread that love of languages to her students.
More >>