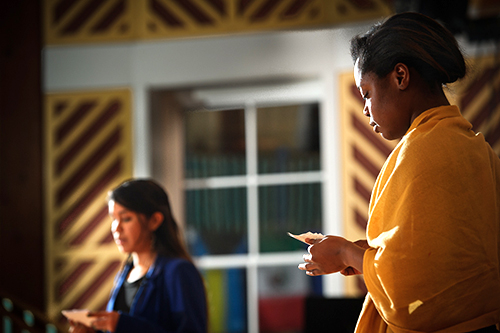 Morolake Thompson '14 hosts "To Africa and Back" as part of a Black History Month celebration
A student's discovery: a passion for law, social policy
Through jurisprudence, law and justice studies and other coursework, Morolake Thompson '14 realized that her interest in the law tilted toward social policy and away from a career as an attorney. Thompson, who is a sociology major, plans to land a job or fellowship after graduation and eventually intends to go to graduate school.
More >>
The realization crystalized for Thompson the semester she read the same book in a jurisprudence and in an Africana studies course: The New Jim Crow: Mass Incarceration in the Age of Colorblindness, by Michelle Alexander, who spoke at Hamilton College in 2013.
"And after reading it, it really changed a lot of things for me. I ended up applying to an internship with ACLU because of that book. And I was able to talk to a lot of attorneys about their experiences with social justice and law, and that kind of opened up my mind to: how can we use the law to create social justice and social equity? That was really important to me in figuring out what I wanted to do after graduation," Thompson says.
At Hamilton, she is an admission intern, public relations person for Hamilton Alumni Leadership Training, vice president of the Black and Latino Student Union and president of Alpha Chi Lambda.