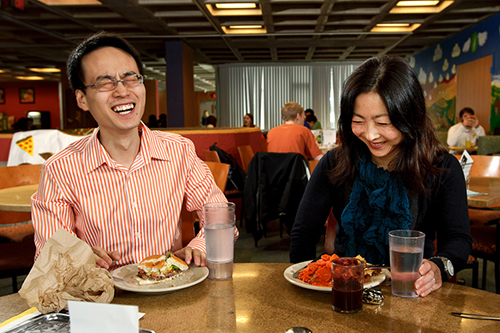 Quan Wan '14 eats lunch with Kyoko Omori, associate professor of East Asian languages and literatures.
A student's passion: language for the love of it
Quan Wan '14 minored in Japanese simply because he loves the language and culture. He is a psychology major with a long-term plan to become a professor, probably in behavior sciences. Wan, who is from China, is intrigued by the relationship between the Chinese and Japanese characters and languages.
More >>

Karen Haedrich '06 at an event for NHK, the radio station she works for in Japan.
A graduate's progress: a career abroad
Studying in Tokyo junior year clinched Karen Haedrich's '06 passion for Japanese language and culture. She graduated from Hamilton College with a minor in Japanese studies and a major in creative writing and moved to Tokyo. She works at NHK, writing and narrating for an English radio program called Kiso Eigo Two (Basic English Two) for junior-high students.
More >>