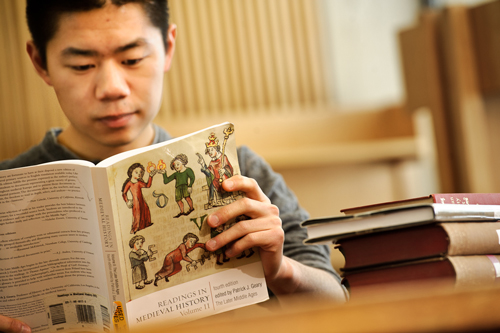 Joseph Legault '14
A student builds a foundation: history and fiction writing
Joseph Legault '14, a creative writing major at Hamilton College, was pretty much oblivious to the existence of medieval and Renaissance studies until his advisor pointed it out. For Lagault, a fantasy writer, it proved to be a rich minor. "I've always been influenced by history, almost like following in Tolkien's footsteps, because he took history courses," he says.
More >>

Jack McManus '13 on the job.
A graduate's progress: a curious mind, an editing job
Jack McManus '13 became the arts editor at the Bennington Banner, in Vermont, not long after he graduated from Hamilton College. He majored in American studies and minored in medieval and Renaissance studies just for the love of it. "I never thought about medieval studies as a means to a tangible end, it was just something that I enjoyed for its own sake. Surprisingly enough, it did end up helping my post-grad job search – one interviewer saw the minor on my resume and asked me about it," he recalls.
More >>