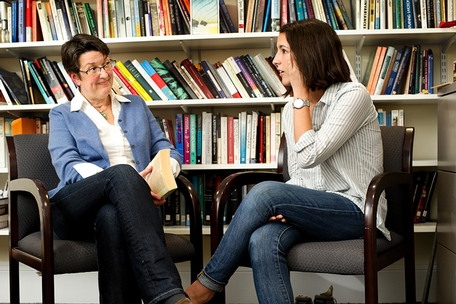 Mercy Corredor '15, right, and Professor Marianne Janack
A student's research: a summer with Hegel
It isn't your typical beach read, but Mercedes Corredor '15 is eager to spend 10 weeks of her summer immersed in a major work by Hegel. "Hopefully we'll work through most of his Phenomenology of Spirit, which is a big difficult text, but that will be fun," says Corredor, who received an Emerson Grant from Hamilton College to do summer research with Philosophy Professor Marianne Janack. Corredor, a philosophy major, wants "almost to salvage" Hegel, maybe write a defense of him.
More >>
Corredor loves how philosophy challenges her to think in new ways. "I feel my world opening, and that happens not every day, but there are just these moments in class where it transforms the way I see the world, and that's really cool," she says.
For a couple of years, Corredor thought she would pursue a doctorate in philosophy after Hamilton. She'd still like to do that, but right now, law school seems like a good choice. She wants to practice law that helps people, in particular related to women's issues. "If I could make a difference there, that is something I'd really like to do," she says.

Cara Chard '03
A philosophy grad finds her way to urban farming
When whimsy and opportunity collided, says Cara Chard '03, she learned to keep bees on a Brooklyn rooftop. It was her introduction to the burgeoning world of urban agriculture. "Opportunities that I hadn't previously known to exist presented themselves, and I took them," she says, She ran a farm-based learning program in Brooklyn for three years and then became the first employee of City Growers. She's now executive director at the nonprofit, which provides students with hands-on food and farm education on rooftop farms.
More >>
Chard's job entails building the vision, programs, and business strategy for the organization that has served more than 10,000 students and added two employees. She says her philosophy major at Hamilton College prepared her well for the unexpected career.
"Philosophy teaches the critical thinking, public speaking, and writing skills necessary to become a leader in any field. The term 'urban agriculture' didn't exist in public discourse when I was at Hamilton, and I never could have planned or predicted my career trajectory," she says, "I followed the things that interested me – philosophy, teaching, beekeeping – and they led me to an awesome job. I never boxed myself in."
Early on after Hamilton, Chard worked as a paralegal and discovered she didn't want to become a lawyer She then earned a master's degree in education from New York University and taught high school English in the Bronx.