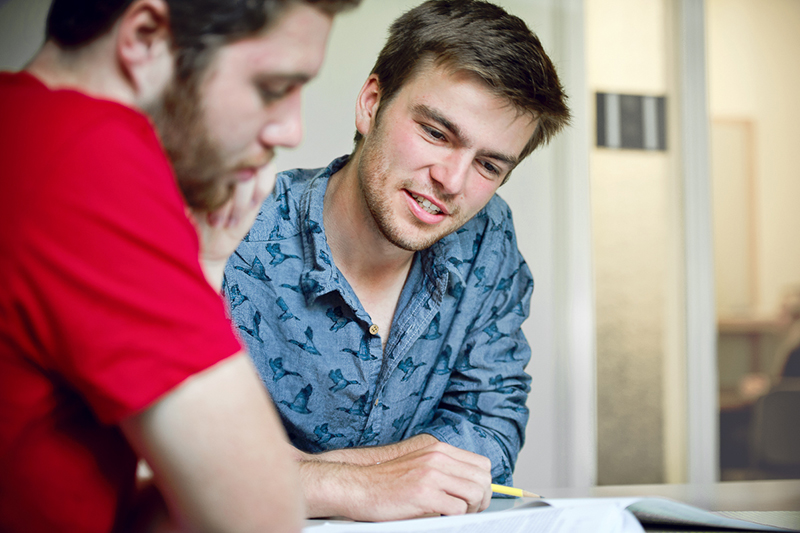 Chris Bousquet '16, right, double major in philosophy and government, tutors Conor Bradley '16, left, in the Writing Center.
A student's exploration: making the most of multiple interests
Maybe it's harder to make choices when your interests blanket the course catalogue, but Chris Bousquet '16 found a way to fit things in. He double-majors in philosophy and government; at one point he was thinking maybe physics and government or French and government. He entered Hamilton College as a Schambach Scholar, which means he has a stipend to do research in a subject of his own choosing. He went with math.
More >>
For a major, Bousquet was attracted to intellectual challenge of philosophy. Writing an essay can require hours of sitting in a room thinking about what a philosopher says and then formulating a response. "It's a very tough but a very rewarding process," he says.
His writing has improved (he's a tutor at the College Writing Center and writes for a website dedicated to long-form pieces), as has his ability to construct and analyze an argument. Bousquet formerly harbored the thought that he should study something more practical than philosophy. His coursework squelched that concern.
"I'd say more than any other group of classes I've taken here, the philosophy classes have had more influence on the rest of my abilities, the rest of my capacities to think, basically," he says.

Cara Chard '03
A philosophy grad finds her way to urban farming
When whimsy and opportunity collided, says Cara Chard '03, she learned to keep bees on a Brooklyn rooftop. It was her introduction to the burgeoning world of urban agriculture. "Opportunities that I hadn't previously known to exist presented themselves, and I took them," she says, She ran a farm-based learning program in Brooklyn for three years and then became the first employee of City Growers. She's now executive director at the nonprofit, which provides students with hands-on food and farm education on rooftop farms.
More >>
Chard's job entails building the vision, programs, and business strategy for the organization that has served more than 10,000 students and added two employees. She says her philosophy major at Hamilton College prepared her well for the unexpected career.
"Philosophy teaches the critical thinking, public speaking, and writing skills necessary to become a leader in any field. The term 'urban agriculture' didn't exist in public discourse when I was at Hamilton, and I never could have planned or predicted my career trajectory," she says, "I followed the things that interested me – philosophy, teaching, beekeeping – and they led me to an awesome job. I never boxed myself in."
Early on after Hamilton, Chard worked as a paralegal and discovered she didn't want to become a lawyer She then earned a master's degree in education from New York University and taught high school English in the Bronx.