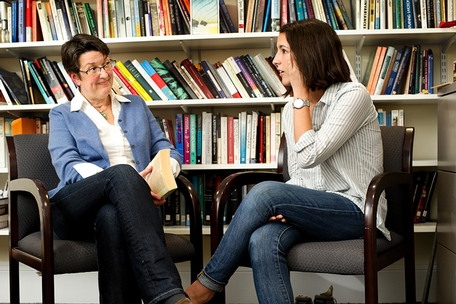 Mercy Corredor '15, right, and Professor Marianne Janack
A student's research: a summer with Hegel
It isn't your typical beach read, but Mercedes Corredor '15 is eager to spend 10 weeks of her summer immersed in a major work by Hegel. "Hopefully we'll work through most of his Phenomenology of Spirit, which is a big difficult text, but that will be fun," says Corredor, who received an Emerson Grant from Hamilton College to do summer research with Philosophy Professor Marianne Janack. Corredor, a philosophy major, wants "almost to salvage" Hegel, maybe write a defense of him.
More >>
Corredor loves how philosophy challenges her to think in new ways. "I feel my world opening, and that happens not every day, but there are just these moments in class where it transforms the way I see the world, and that's really cool," she says.
For a couple of years, Corredor thought she would pursue a doctorate in philosophy after Hamilton. She'd still like to do that, but right now, law school seems like a good choice. She wants to practice law that helps people, in particular related to women's issues. "If I could make a difference there, that is something I'd really like to do," she says.
A graduate's progress: writing for the Washington-Post
When Sean Sullivan '07 spent a semester in Hamilton College's New York City program and interned at ABC News Production, he was en route to a career. The internship led to another the following summer with ABC News "Nightline." "And that's where I fell in love with journalism. There was never a dull day. And I felt like we were telling important stories that people needed to see. It was hard work, but a really great experience," says Sullivan, who went on to a number of journalism jobs and now covers national politics for "The Fix," a Washington Post politics blog.
More >>
Sullivan majored in philosophy, a decision inspired by his Technology and Alienation class with Richard Werner, the John Stewart Kennedy professor of philosophy.
"That sealed the deal for me. We had some great discussions in the technology and alienation class and looked at philosophy through the lens of film. It opened my eyes and showed me that philosophy really isn't this arcane subject area – it's about all the everyday things we do," Sullivan says.
His studies have come in handy. "Being a student of philosophy is about thinking critically, and doing a lot of reading and writing. Which is a lot of what I do in my job now," he says.