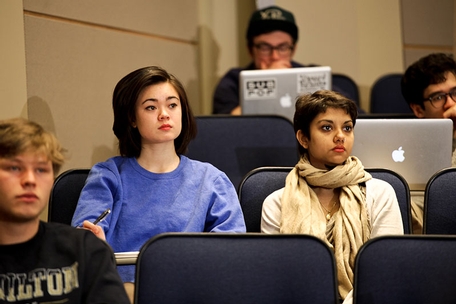 Isla Ng '16, in blue, listens to Assistant Professor of Philosophy Russell Marcus.
A student's discovery: a mind for philosophy
Isla Ng '16 loves writing and couldn't get enough of interdisciplinary classes such as women's studies. She was still sorting out her academic options when she received an A plus on a paper she wrote for Associate Philosophy Professor Katheryn Doran. "She's kind of tough sometimes, so that was a pretty big deal. And she wrote to me in her comments saying, 'You should really consider being a philosophy major,'" says Ng, who shrugged off the idea – but not for good.
More >>
With insight from professors, Ng realized she was abstract in her thinking and "theory savvy." After a summer of self-reflection, she kept coming back to philosophy. "Everything that I like is just philosophy in a different form," she says. She declared it as her major.
Even though Ng was a confident writer, she found her writing improved through her philosophy courses. "I definitely think that out of all the classes that I've taken philosophy has challenged me the most in terms of my writing. You have to be so clear, there's no room for messiness, sloppiness," she says.
Ng doesn't know what shape her post-Hamilton career will take but she knows her interests: writing, social-justice activism and online media.
A graduate's progress: writing for the Washington-Post
When Sean Sullivan '07 spent a semester in Hamilton College's New York City program and interned at ABC News Production, he was en route to a career. The internship led to another the following summer with ABC News "Nightline." "And that's where I fell in love with journalism. There was never a dull day. And I felt like we were telling important stories that people needed to see. It was hard work, but a really great experience," says Sullivan, who went on to a number of journalism jobs and now covers national politics for "The Fix," a Washington Post politics blog.
More >>
Sullivan majored in philosophy, a decision inspired by his Technology and Alienation class with Richard Werner, the John Stewart Kennedy professor of philosophy.
"That sealed the deal for me. We had some great discussions in the technology and alienation class and looked at philosophy through the lens of film. It opened my eyes and showed me that philosophy really isn't this arcane subject area – it's about all the everyday things we do," Sullivan says.
His studies have come in handy. "Being a student of philosophy is about thinking critically, and doing a lot of reading and writing. Which is a lot of what I do in my job now," he says.