Rosmery Rodriguez '15 works with a student during her internship at the New England Center for Children in Boston.
A student's growth: hands-on learning, self-discovery
As Rosmery Rodriguez '15 researched colleges, Hamilton stood out for the student internships it offers at the New England Center for Children, a school for children with autism. Each summer, select Hamilton students interested in education or psychology get the chance work at the center founded by a Hamilton alumnus. Rodriguez figured she would major in neuroscience or psychology, and when she heard about the center experience, the scale tipped toward Hamilton College.
More >>
She majored in psychology, secured the internship and spent a summer teaching, under supervision, a group of boys aged 9 to 14. At first, the work could feel overwhelming, but Rodriguez got the hang of it. In the end, she learned things that helped focus her future studies. A big realization – she wants to work in a clinical setting.
The most rewarding part of her Hamilton experience, Rodriguez says, is being part of the close-knit psychology community. The bond means the rigorous atmosphere is never daunting, in her experience.
"I feel like Hamilton, while it is competitive, it's a friendly, competitive atmosphere. I feel like people support each other," Rodriguez says.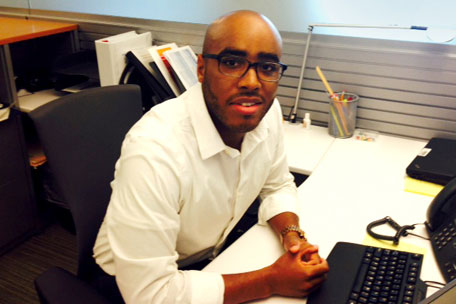 Byron K. Johnson '09
A graduate's progress: scouting out signs of financial crime
Byron K. Johnson '09 majored in psychology because he was fascinated by human behavior and thought the course of study would be useful in a career as a criminal defense lawyer. Well before he graduated from Hamilton College, however, Johnson figured out that law wasn't for him, but he hung on to the psych major. That was a good thing.
More >>
Johnson works as a lead analyst in financial crimes compliance at GE Capital, where he puts his knowledge about human behaviors to use.
Johnson says that of all the things he learned at Hamilton, the most important were critical thinking and writing skills. In particular, he credits Todd Franklin, the Sidney Wertimer Professor of Philosophy for Excellence in Advising and Mentoring, with sharpening his abilities in those areas. "I always thought that I was an OK writer, and now I'll never forget the first time I turned in a paper, how he just tore it up," Johnson recalls. But Franklin was supportive. He encouraged Johnson to come see him during office hours and worked with him on all elements of writing well. "It was eye-opening," Johnson says.