Rosmery Rodriguez '15 works with a student during her internship at the New England Center for Children in Boston.
A student's growth: hands-on learning, self-discovery
As Rosmery Rodriguez '15 researched colleges, Hamilton stood out for the student internships it offers at the New England Center for Children, a school for children with autism. Each summer, select Hamilton students interested in education or psychology get the chance work at the center founded by a Hamilton alumnus. Rodriguez figured she would major in neuroscience or psychology, and when she heard about the center experience, the scale tipped toward Hamilton College.
More >>
She majored in psychology, secured the internship and spent a summer teaching, under supervision, a group of boys aged 9 to 14. At first, the work could feel overwhelming, but Rodriguez got the hang of it. In the end, she learned things that helped focus her future studies. A big realization – she wants to work in a clinical setting.
The most rewarding part of her Hamilton experience, Rodriguez says, is being part of the close-knit psychology community. The bond means the rigorous atmosphere is never daunting, in her experience.
"I feel like Hamilton, while it is competitive, it's a friendly, competitive atmosphere. I feel like people support each other," Rodriguez says.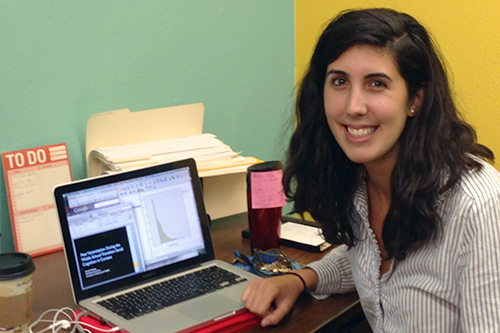 Hannah Schacter '12
A graduate's progress: on track for a Ph.D.
Hannah Schacter '12 is earning a doctorate in developmental psychology at the University of California, Los Angeles. She discovered a passion for developmental research at Hamilton College; she was riveted by work that shows how bullying has an impact on children's later adjustment, be they victim or perpetrator.
More >>
"This topic immediately captured me, and I quickly grew interested in understanding why kids who are bullied, for example, end up faring so poorly. Although I began investigating some of these topics at Hamilton through independent research and my senior thesis, I didn't want to stop there," she says.
As a Ph.D. student she continues to research bullying during early adolescence.
"Especially as we see more and more tragic news stories surfacing about youth who have been chronically victimized, I see my research as having the potential to address a pressing public health issue. At the end of the day – and at the risk of sounding cheesy – success in a career for me means knowing my work has made even the slightest difference in the lives of any victims of bullying," Schacter says.