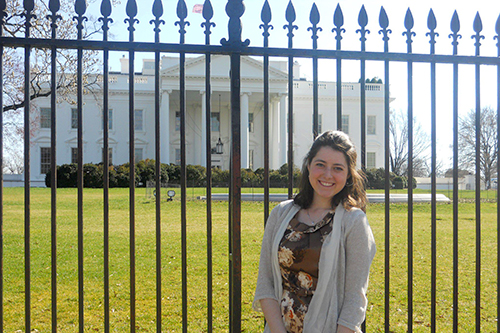 Meghan O'Sullivan '15
A student's interests intersect: Proust and public policy
As a sophomore Meghan O'Sullivan '15 successfully applied to the Hamilton College Levitt Leadership Institute, which is how she discovered public policy as a potential major. The subject was a gateway to courses she never expected to take, much like economics, statistics and more statistics. She double-majored in public policy and comparative literature.
More >>
Through the College Kirkland Summer Associates Program, O'Sullivan did a research project that combined her dual interests. She worked with refugee women in a nearby city to create a podcast about their experiences. The political and social issues of their homelands shaped their personal narratives.
Comp lit's human perspective complements the quantitative perspective of public policy, says O'Sullivan, who is contemplating, among other options, grad school in public policy.
"You know, sometimes I think it's really important, if you're thinking about a career in public service or as a policy maker or working for a think tank, you should have as wide of a perspective on things as possible, in my opinion. Because if you're only thinking about the cost-benefit analysis in terms of just economic costs, you're really not seeing the full picture," she says.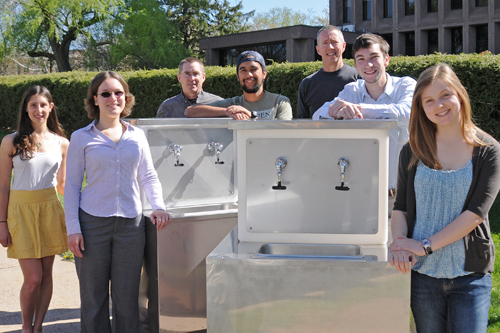 Jen Kleindienst '09, front left, in sunglasses, with a student-designed water wagon at Wesleyan University.
A graduate's progress: a master's and an ideal job
Jen Kleindienst '09 became Wesleyan University's first sustainability coordinator in July 2012, and if she had to pick a favorite project on the job so far, it would be "The Wishing Well,", a student-designed water wagon that can roll into an outdoor event.
More >>
When Wesleyan decided to stop using bottled water, Kleindienst's office cosponsored a competition for students to devise a way to supply water at commencement. The winner was the water wagon, which hooks up to any outdoor faucet and filters, cools and dispenses water. That's just the kind of innovation a sustainability coordinator wants to see.
Kleindienst, who majored in public policy and minored in environmental studies at Hamilton College, says she left equipped to succeed in grad school and land the type of job she'd been shooting for since she was a rising junior.
"I feel like unofficially my degree was in environmental policy based on the courses that I took, and I think it gave me a nice, well-rounded approach to looking at sustainability," she says.
After Hamilton, she earned a graduate degree in environmental studies at Antioch University New England.