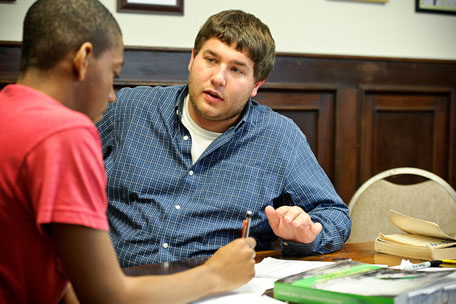 Brian Sobotko '16 tutors Clinton High School student Mark Bowling at the ABC House at Hamilton College.
A student's summer research and career discovery
The idea was his, and the College Levitt Center backed it financially. Brian Sobotko '16 would spend a summer researching "Transformational Leadership in American Public Schools," under the guidance of Susan Mason, director of education studies. The project combined his public policy major and education studies minor, and Sobotko learned a lot.
More >>
"One of the things that I got out of it is that I know that I don't want to do research permanently, because as great as it was, and as much as I learned about myself and about different problems in the system, there were just days when there was not enough human interaction for me," says Sobotko. He discovered he'd rather work in a classroom than a think tank.
He has come to believe that the most important people in education are those in the classroom, and that's where he wants to start his career. Maybe down the road he'll move into public policy. "While I'm definitely interested in public policy and the metaview of (education), I'm really also interested in the things that individuals can do; so things that school leaders can implement, which I think a lot of times are brushed over," says Sobotko, who writes for The Spectator and tutors at the ABC House.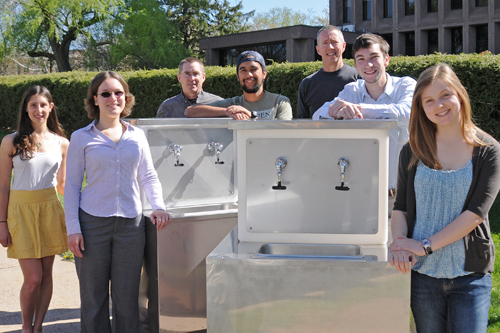 Jen Kleindienst '09, front left, in sunglasses, with a student-designed water wagon at Wesleyan University.
A graduate's progress: a master's and an ideal job
Jen Kleindienst '09 became Wesleyan University's first sustainability coordinator in July 2012, and if she had to pick a favorite project on the job so far, it would be "The Wishing Well,", a student-designed water wagon that can roll into an outdoor event.
More >>
When Wesleyan decided to stop using bottled water, Kleindienst's office cosponsored a competition for students to devise a way to supply water at commencement. The winner was the water wagon, which hooks up to any outdoor faucet and filters, cools and dispenses water. That's just the kind of innovation a sustainability coordinator wants to see.
Kleindienst, who majored in public policy and minored in environmental studies at Hamilton College, says she left equipped to succeed in grad school and land the type of job she'd been shooting for since she was a rising junior.
"I feel like unofficially my degree was in environmental policy based on the courses that I took, and I think it gave me a nice, well-rounded approach to looking at sustainability," she says.
After Hamilton, she earned a graduate degree in environmental studies at Antioch University New England.