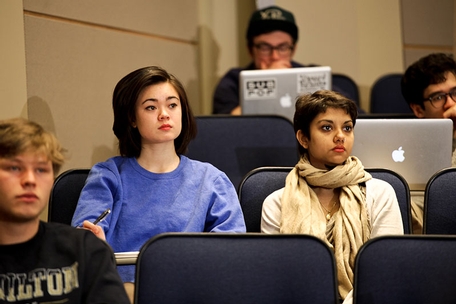 Isla Ng '16, in blue, listens to Assistant Professor of Philosophy Russell Marcus.
A student's discovery: a mind for philosophy
Isla Ng '16 loves writing and couldn't get enough of interdisciplinary classes such as women's studies. She was still sorting out her academic options when she received an A plus on a paper she wrote for Associate Philosophy Professor Katheryn Doran. "She's kind of tough sometimes, so that was a pretty big deal. And she wrote to me in her comments saying, 'You should really consider being a philosophy major,'" says Ng, who shrugged off the idea – but not for good.
More >>
A graduate's progress: writing for the Washington-Post
When Sean Sullivan '07 spent a semester in Hamilton College's New York City program and interned at ABC News Production, he was en route to a career. The internship led to another the following summer with ABC News "Nightline." "And that's where I fell in love with journalism. There was never a dull day. And I felt like we were telling important stories that people needed to see. It was hard work, but a really great experience," says Sullivan, who went on to a number of journalism jobs and now covers national politics for "The Fix," a Washington Post politics blog.
More >>