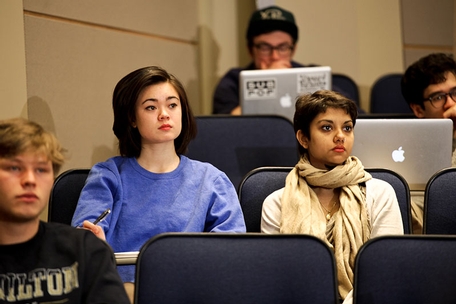 Isla Ng '16, in blue, listens to Assistant Professor of Philosophy Russell Marcus.
A student's discovery: a mind for philosophy
Isla Ng '16 loves writing and couldn't get enough of interdisciplinary classes such as women's studies. She was still sorting out her academic options when she received an A plus on a paper she wrote for Associate Philosophy Professor Katheryn Doran. "She's kind of tough sometimes, so that was a pretty big deal. And she wrote to me in her comments saying, 'You should really consider being a philosophy major,'" says Ng, who shrugged off the idea – but not for good.
More >>

Cara Chard '03
A philosophy grad finds her way to urban farming
When whimsy and opportunity collided, says Cara Chard '03, she learned to keep bees on a Brooklyn rooftop. It was her introduction to the burgeoning world of urban agriculture. "Opportunities that I hadn't previously known to exist presented themselves, and I took them," she says. She ran a farm-based learning program in Brooklyn for three years and then became the first employee of City Growers. She's now executive director at the nonprofit, which provides students with hands-on food and farm education on rooftop farms.
More >>