Affiliated and Partner Schools in Paris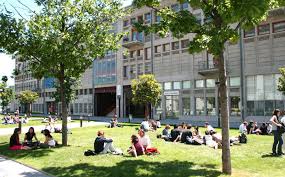 Hamilton in France has both long-standing and new affiliations with the following Paris universities. Each affiliation allows Hamilton to enroll a set number of students. Depending on their academic needs and interests, the resident director will direct students to one or two of the Paris University branches described below.

Paris 3 University
Sorbonne Nouvelle, Censier
A branch of the Université de Paris that specializes in the humanities (French and comparative literatures, foreign languages) and communication (cinema, theater, linguistics). Students majoring in English at their home institution may take one or two courses taught in English in the English and American studies program. Hamilton organizes special tutoring sessions for some Paris 3 courses. This is where the majority of Hamilton students take their courses. Open to all students.

Paris 6 University
Pierre et Marie Curie, Jussieu
A branch of Université de Paris that specializes in the natural sciences (biology, chemistry, physics, geology) and mathematics. Open to students with solid college-level preparation in these areas and the ability to work independently. Tutoring with Paris 6 graduate students is recommended for most courses.

Paris 7 University
Université Paris Diderot
A branch of the Université de Paris that offers courses in the humanities, literature, comparative literature, literature in foreign languages, economics, history, sociology and the natural sciences. This is a new affiliation. Open to a limited number of students, principally specialists in the Social Sciences and History.

Institut d'Études Politiques
IEP or Sciences Po
IEP is among the most academically challenging schools in France, so studying there requires careful planning, serious commitment and a separate application. A limited number of spots are available to annual students in spring. Those students must have a very high linguistic ability in French, an excellent background in the political sciences and the ability to work independently. Students interested in applying to IEP must complete the extra application once accepted by Hamilton in France. Students accepted at IEP must take three courses there.
Additional information will be added to this website as soon as IEP confirms its 2014-15 policies.

Institut Catholique de Paris
ICP or La Catho
A private university with various specialized divisions. Course offerings include literature, history, philosophy, social sciences and religious studies. Open to all students (if courses not available at one of the Universités de Paris).
La Catho also includes the Institut de Langue et de Culture Françaises de l'Institut Catholique, which is open to selected students needing introductory courses.

Ecole du Louvre
Hamilton in France is one of a few American programs permitted to register students at the École du Louvre. Lecture courses are complimented by a series of weekly or bi-weekly visits to museum sites related to the course. Because of the Ecole du Louvre's particular program format, students select courses in consultation with a professor of art history for Hamilton in France, who ensures that courses meet Hamilton's requirement for credit hours. Hamilton in France students attend lectures at the Louvre, work with the Hamilton art history professor and complete a research project. Open to art history majors capable of working independently.

Private Language Institutes
Institut Goethe; Instituto Cervantes; Centro Italiano, Institut du Monde Arabe
Courses at these institutes are open only to students with previous college-level work in those languages. Hamilton does not recommend starting a new foreign language while in France, except for introductory courses in Arabic.

Scola Cantorum
(For music theory and instruments)
Students who have received college credit for music instruction will receive partial credit for lessons in Paris. Students are responsible for cost of private instruction, as at Hamilton. A modest stipend may be available to offset the higher cost of lessons in Paris.

Studios and Centers for the Arts
(For photography, painting, drawing, ceramics, dance and acting)
Students with prior college-level work in studio art may receive credit for work at several Paris studios. Students are responsible for buying material and may incur a lab fee. Académie de Port Royal, Institut de la Croix Nivert, Spéos or Studio Vermes (photography), Ecole de Danse du Marais and Cours Florent (acting for students with solid preparation). Inquire early because programs in these schools change periodically.
Tutorials: Teaching methods in France vary greatly from those of the United States, so selected courses may include required additional reading and writing sessions.