The installation of the CrashPlan backup utility is a straightforward process. Detailed installation instructions are listed below on this page. A brief overview of the process is:
Log in with your network username and password
Download and install the appropriate client
Make sure that you select Existing Account at the account creation screen
CrashPlan Installation Instructions
To get started with CrashPlan, you'll need to download and install the client on the main computer that you're using and need to have backed up. You'll need to navigate to the following website: http://crashplan.hamilton.edu:4280.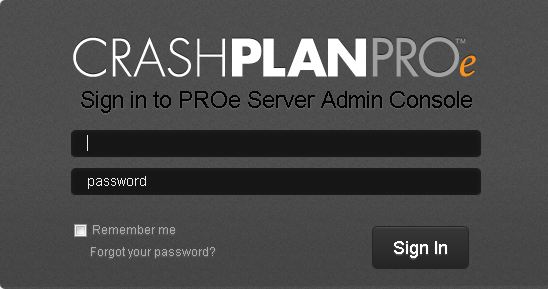 Please note, if you have a dual-boot system, you'll need to install the client on both OSes
At the username prompt, enter your network (computer) username
At the password prompt, enter your network login password
Click on Sign In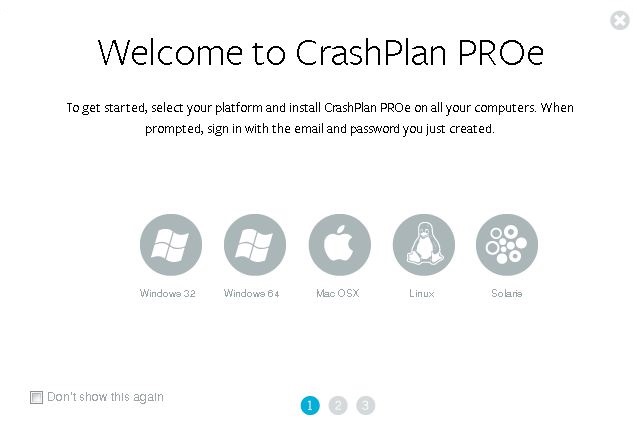 Once you're logged in, you'll be presented with the above. Select the appropriate file for your OS (Windows 64, if you're a Windows user, Mac OS X if you're a Mac user). After selecting the file, it will save a file to your Downloads folder, unless you specify otherwise. After this file downloads, Run it and it will install the CrashPlan client.
After the client has installed, a box will appear asking you to sign in.
Make sure that you select Existing Account at this section.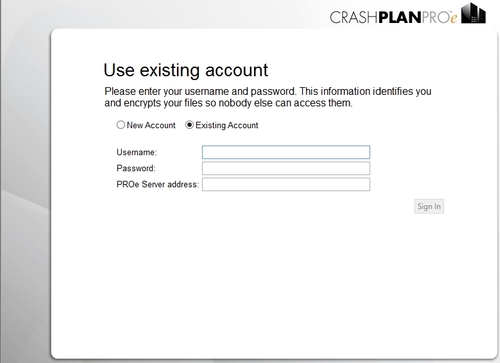 Enter in the following information to complete your setup:
Username: enter your network username here
Password: enter your network password here
PROe Server Address: crashplan.hamilton.edu
Once you have the application installed, the initial backup will begin. By default this will not include any additional storage items that are not attached to your computer. This includes any USB keys, external hard disks, or your network drives (ESS/SSS/Academics). These devices should not be included as part of your backup set (If you need to backup any external hardware, please contact DIS and we can review the best way to meet your backup needs). The initial backup will take some time. Depending on how much data you have it could be as little as a few hours or in extreme cases, a week or so. The client will throttle how hard it works depending on how actively you're using your machine.
The default backup settings have been designed to be the best fit for the needs of most. If you would prefer to customize your backup, however, you can do so. Refer to the document on Configuring Your CrashPlan Backup