Publications
Jazz Tales from Jazz Legends: Oral Histories from the Fillius Jazz Archive at Hamilton College, by Monk Rowe with Romy Britell, foreward by Dan Morgenstern. 209 pages with 13 black and white illustrations, 2015. ISBN: 978-1-937370-17-6 ($20) Buy Now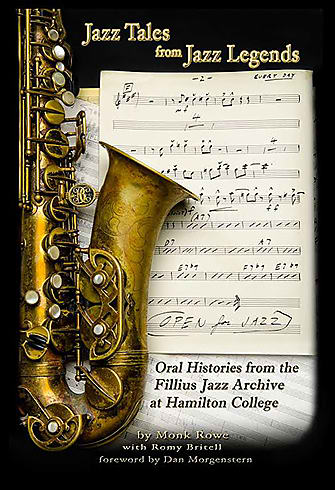 Distills an oral history project that began in 1995 under the auspices of the Fillius Jazz Archive at Hamilton College in Clinton N.Y. Excerpts drawn from 325 one-on-one sessions conducted for the Archive are organized into categories including first-hand accounts of life on the road, inspiration, race and jazz, improvisation, and work inside the studios. Interviewees quoted in the book include icons in jazz world such as Joe Williams, Dave and Iola Brubeck, Jon Hendricks, Steve Allen, and Marian McPartland. Stories from unsung sidemen offer a rare perspective on the life and times of jazz artists who balance the love of music with the sacrifice inherent in the jazz lifestyle. The author provides informative commentary with personal insights into the accomplishments and personalities of over one hundred jazz artists.
The Prison Diary and Letters of Chester Gillette: September 18, 1907 through March 30, 1908, edited by Jack Sherman and Craig Brandon. 193 pages with 32 black and white illustrations, 2007. ISBN: 978-0-9796448-1-8 ($25)

Buy Now

Chester Gillette was accused of the murder of Grace Brown in 1906. After a sensational trial, covered by newspapers across the country, Gillette was convicted of first degree murder and sentenced to die in the electric chair. This case was the basis for Theodore Dreiser's classic novel An American Tragedy, the 1951 Academy-award-winning movie A Place in the Sun, and a 2006 opera. Revealed here for the first time are Chester's private thoughts in his final months as he recorded them in his diary from September 1907 through March 1908. The diary was believed lost for nearly a century and only came to light in 2007 when Marlynn McWade-Murrary, the grandniece of Chester Gillette, donated it to Hamilton College. In addition to the diary, the publication contains twelve letters Chester wrote from prison: eleven to Bernice Ferrin, a friend of the family; and one to his sister Hazel, written the day before his execution.

A Selected Catalog of the Ezra Pound Collection at Hamilton College, compiled with notes by Cameron McWhirter and Randall L. Ericson. 299 pages with 123 illustrations (mostly color), 2005 ($10).

Buy Now

This lavishly illustrated catalog highlights the Hamilton College Library's holdings of Ezra Pound material. Pound, a Hamilton alumnus (class of 1905), was one of the most important and influential poets of the twentieth century. The first third of the book focuses on materials unique to the Hamilton collection, while the rest of the book identifies works by and about Pound held by the Hamilton College library. This catalog reveals the importance of this collection for Pound scholars and places it among the best in the country.