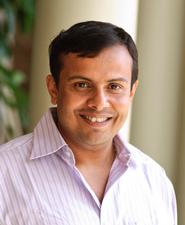 Amar Presents Invited Talk in India
Abhishek Amar, assistant professor of religious studies, presented an invited talk on July 24 in the department of history at the Hyderabad Central University in India. In "Conflict and Coexistence: Buddhist Hindu Interactions in the Early Medieval Eastern India" Amar examined the role of Hinduism in the disappearance and decline of Buddhism in India.
According to Amar, "almost all works present Buddhism as a passive religion, which failed to respond adequately to Hindu challenges. This approach has emerged because of the textual focus." Based on an integrative study of material culture and textual sources, Amar examined the interaction between Buddhist and Hindu traditions and the subsequent Buddhist responses to the Hindu challenges. While doing so, he analyzed strands of tensions and contestations as well as mechanisms that informed the coexistence of Buddhism and Hinduism in the early medieval eastern India.