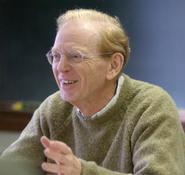 Briggs Publishes in New Dublin Journal
Austin Briggs, Hamilton B. Tompkins Professor of English emeritus, has published "Joyce's Nymph of the Yews: Debates about the Nude in Painting" in The Dublin James Joyce Journal (no. 2/2009), a new peer-reviewed publication appearing under the auspices of the University College Dublin James Joyce Research Centre in association with the National Library of Ireland.

One of the editors asked Briggs to submit the paper after she heard him deliver an earlier version of it at an international conference in Tours, France.