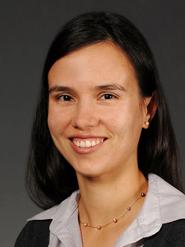 Conover Presents at NEUDC Conference
Assistant Professor of Economics Emily Conover presented her research, chaired a session and discussed a paper at the Northeast Universities Development Consortium (NEUDC) Conference Nov. 2-3 at Harvard University's Kennedy School of Government. The conference is a major international forum in development economics.
In the paper, "Conditional Cash Transfers, Political Participation and Voting Behavior," Conover and her co-authors estimated the influence of a Columbian poverty alleviation program on voting and electoral outcomes. Using individual level and administrative data, they identified an important dimension of heterogeneity not previously explored in the literature. According to the researchers, it is the direct recipients of the transfer, and not other household members, who are most likely to change their voting behavior and electoral choice.