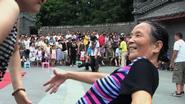 F.I.L.M. Series Presents People's Park April 28
The Hamilton College F.I.L.M. (Forum on Image and Language in Motion) series will present People's Park (2012), by Libbie Cohn and J. P. Sniadecki, on Sunday, April 28, at 2 p.m., in the Bradford Auditorium, Kirner-Johnson Building. The event includes the screening of the film followed by a discussion with Cohn and Sniadecki. The event is free and open to the public.
Think you have a sense of what China and "the Chinese" are like? Check out your preconceptions by experiencing People's Park, the new film by Harvard University Sensory Ethnography Lab veteran J. P. Sniadecki and his partner Libbie Cohn, who studied political science at Yale University. The two met when studying at Tsinghua University in China. An inventive single-shot film with a complex and evocative soundtrack, People's Park is currently making the rounds at international film festivals.