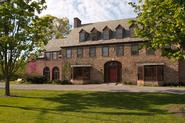 Hamilton Trustees Give Go-Ahead to Emerson Hall Renovation
Posted June 8, 2009
With all but a small portion of the $10.7 million project cost in hand and considering the significant savings in construction costs due to the current recession, Hamilton College's Board of Trustees has authorized the renovation and expansion of Emerson Hall into a new student center.

Construction will begin immediately and is expected to be completed in the fall of 2010.

The new space is intended to become a hub for student-faculty interaction, what Dean of Students Nancy Thompson envisions as "the college's family room." She said the facility will be "an accessible, comfortable place where students, faculty members, college employees and visitors can grab a cup of coffee, put their feet up and hang out together."

Thompson said the new facility will feature a small cafe, comfortable lounges, and offices and meeting spaces for student clubs and organizations, as well as the college bookstore and radio station. It is designed to be a place that promotes collaboration among student groups and fosters and supports a vibrant and diverse array of student-directed activities. Ultimately, Thompson expects the new facility will be a casual and comfortable meeting space for the entire community to come together.

"This project has been in the works for nearly a decade," said Acting President and Dean of Faculty Joseph R. Urgo. "We were concerned that the recession would delay construction further, but the current situation has had the opposite effect. The economic slowdown resulted in lower construction costs and significant savings over what was originally projected. Since the funding is largely in place it made sense to move ahead now."

Urgo said the decision to begin construction immediately also will give a boost to the Central New York economy since the college favors local contractors and, as much as possible, purchases construction materials from local firms. H.R. Beebe of Utica will be the general contractor for the project.

Emerson Hall dates to 1928 and is the former home of the Emerson Literary Society, an organization founded in 1882 as an alternative to fraternities on campus. The building is located on College Hill Road in the geographic center of campus, adjacent to the Beinecke Student Activities Village and Martin's Way, the main north-south pedestrian walkway on campus.

"It's an ideal, central spot adjacent to Martin's Way, close to the Mail Center and complementary to the Beinecke Village," Thompson said. "Students have waited a long time for this facility."

Funding for the $10.7 million renovation and expansion will come from donor contributions. Interest or questions about this project should be directed to Lori Dennison at 315-859-4659.