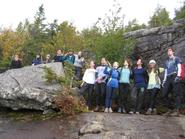 HOC Conquers 38 of 46 Adirondack High Peaks
Through October snow, mud, rain and unseasonably cold weather, the Hamilton Outing Club (HOC) hosted its annual 46 Peak Weekend on Oct. 9-11. The goal of the weekend is to have one Hamilton student or community member reach the summit of every one of the Adirondacks' 46 Peaks. With more than 100 participants, this year the club came close with a grand total of 38 peaks. The weather made hiking difficult due to extreme mud and snow that covered the ground.

The group hiking Giant and Rocky peaks were fortunate however. Though other trips were snowed or mudded out, their 14-person trip was blessed with a light, beautiful snow, sun, and a fantastic view of the Adirondack High Peaks.

The High Peaks, in Essex and Franklin counties, are the 46 Adirondack Mountains that were traditionally believed to be higher than 4,000 feet, though surveying ultimately showed that four did not reach that height.