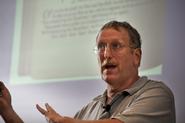 Isserman a Featured Speaker at Columbia Conference
Publius Virgilius Rogers Professor of American History Maurice Isserman was a speaker at "Moses Finley and Politics," a conference to mark the centenary of M. I. Finley's birth, on Sept. 29 at Columbia University.
Moses Finley (1912-1986) was an influential ancient historian during the second half of the 20th century. He held teaching positions at Rutgers University and the University of Cambridge, and was the author of The World of Odysseus and Politics in the Ancient World, among others.