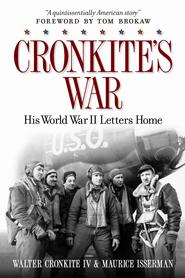 Isserman and Cronkite '11 Featured on The Bob Edwards Show
Publius Virgilius Rogers Professor of American History Maurice Isserman and his former student Walter Cronkite IV '11 discussed their new book Cronkite's War: His World War II Letters Home during an interview with Bob Edwards, host of The Bob Edwards Show on SiriusXM Satellite Radio, broadcast on June 19 and again on June 22.
The Bob Edwards Show and Bob Edwards Weekend is heard on Sirius XM Radio and distributed to public radio stations by Public Radio International (PRI). According to the show's website, "Both programs feature in-depth interviews with newsmakers, journalists, entertainers and other compelling figures." Before joining Sirius XM in 2004, Edwards hosted National Public Radio's (NPR) Morning Edition for 24-and-a-half years, attracting more than 13 million listeners weekly.