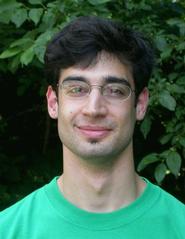 Levitt Fellow David Turchin '06 Researching Cotton Subsidies
Measuring Effects on West African Economies and Prospects for U.S. Policy Reform
By Katherine Trainor | Contact Sharon Topi (315) 859-4451
Posted August 1, 2005
Tags
David Turchin '06 (Newburyport, Mass.) is all about cotton this summer. As a Levitt Fellow, Turchin is researching first-world subsidies, one of which is cotton, a leading subsidized crop in the U.S., and is measuring the effects on West African economies. In addition, he is assessing the prospects for U.S. policy reforms and what this could mean for economic development and poverty reduction in the region in a project titled "The Cotton Harvest: Harvesting Subsidies, Harvesting Poverty."
"There's reinvigorated talk about the West African economy, and one of the largest exported crops is cotton," Turchin explained. "I was angry, because there is so much hypocrisy: we have policies that hurt the developing world."
Turchin, a world politics and Spanish major, is working with Stephen Orvis, Professor of Government. He said he first became interested in this topic after writing a paper on the effects of first world agricultural protectionism for government professor Alan Cafruny's course "International Political Economy," which included a general overview of the effect of first-world subsidies on the developing world.
For his research, Turchin, who recently returned from a year off campus, including a fall term in New York City and a spring term in Madrid, is reading current newspapers and journals, because he says, "this is a developing issue day to day." He also hopes to include primary sources, such as interviews, as his project becomes more developed.
"It's an incredible opportunity," he said. "I was surprised about the amount of money Hamilton gives out and thought it would be a waste if I didn't take advantage of this opportunity. I'm also very impressed with student independent initiative and the level of maturity."
To enhance student research around issues of public affairs, the Levitt Center funds student-faculty research through its Levitt Research Fellows Program. The program is open to all students who wish to spend the summer working in collaboration with a faculty member on an issue related to public affairs. Students receive a summer stipend and some expense money, and spend 10 weeks in the summer working intensively with a faculty mentor. Those selected for the program are required to provide a written assessment of their work at the completion of the summer, and also give a public presentation of their research findings to the Hamilton community, or local high school classes through the Levitt Scholars program.

-- by Katherine Trainor