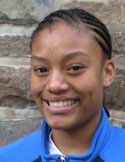 Liberty League Honors Women's Track & Field Athlete
Bond '09 Selected Outdoor Rookie of the Year
Tags
Hamilton College women's track and field athlete Akilah Bond '09 (Amherst, Mass./Amherst Regional HS) was selected the 2006 Outdoor Rookie of the Year by the Liberty League on June 12.
Head coach Ellen Hull and assistants Steve Bellona, Norm Deep and Jerry Tine were recognized as the Outdoor Coaching Staff of the Year. Hull guided Hamilton to its first Liberty League Championships title since 1999 on April 15.
The Continentals tied or set seven school and two league meet records during the outdoor season. Nine athletes made the all-league team in a total of 11 events. Hull and her assistants were named the league's Indoor Coaching Staff of the Year in March.
Bond is the third Hamilton athlete in as many years to earn outdoor rookie of the year honors. Rachel Bennek '07 was the 2005 recipient and Laura Belden '07 received the honor in 2004. Bond picked up the league's Indoor Rookie of the Year award in March of 2006.
Bond won the triple jump and finished second in the long jump at the league championships. She set a meet record in the triple jump with a mark of 11.34 meters. Bond went on to finish second in the event at the New York State Collegiate Track Conference Championships. She set a school triple jump record of 11.36 meters at the New England Small College Athletic Conference Championships on April 29.
Click on the following link for the complete list of Liberty League award winners: http://www.libertyleaguesports.org/awards/wtrack