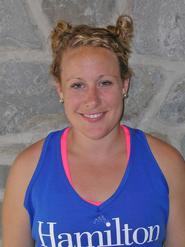 No. 6 women's lacrosse edges No. 16 William Smith in overtime
Briscoe '09 sets up Graveley '11 for game-winner
By Meghan Stetson (mstetson) | Contact Meghan Stetson (mstetson)
Posted April 10, 2009
Tags
Kaillie Briscoe '09 found Anne Graveley '11 for the game-winning goal with six seconds remaining in overtime and nationally ranked No. 6 Hamilton College escaped with an 8-7 win against visiting William Smith College in a Liberty League showdown at Campus Road Athletic Field on April 10.
Hamilton (9-1 overall, 5-0 Liberty) has won 27 in a row at home and 25 straight against league opponents. William Smith fell to 7-2 overall and 4-1 in the league. Union College (3-0) is the only other remaining team unbeaten in league play.
Briscoe's presence as she circled behind the left side of the goal was enough to bait the Heron net-minder away from the crease as the seconds ticked down in overtime. Graveley slashed towards the goal and Briscoe found her in front of the open net for the game-winner.
Briscoe scored Hamilton's final two goals in regulation and finished with three goals and two assists to lead Hamilton. She surpassed Sarah Gloo '01 for the program record in career goals and now has 189. Gloo had held the record for eight years with 187. Briscoe was already the career leader in assists and points entering her senior campaign and has improved the record totals to 119 and 308, respectively.
Hamilton held a 5-3 lead at halftime after Graveley notched another last-possession goal with two seconds left until the break. Briscoe set her up for the first-half buzzer-beater. William Smith fought back with the first three goals of the second stanza for a 6-5 lead before Briscoe took over.
The senior attack evened the score at 6-6 with 19:02 to go in regulation on an unassisted goal. She gave Hamilton a go-ahead goal on another unassisted tally with 8:21 left. William Smith tied the game with just 1:14 remaining. The Heron goalie made two crucial saves down the stretch to send the game into overtime.
Hamilton held a commanding 33-14 advantage in shots and a 31-26 edge in ground balls.
Kate Marek '09 went 2-for-2 on free position shots for Hamilton, picked up two ground balls and caused two turnovers. Liz Rave '10 scored a goal and scooped up three ground balls. Rave and Briscoe are tied for the team lead in goals this season with 24.
Catie Gibbons '09 was strong on defense for the Continentals as she caused three turnovers and collected a team-high six ground balls. Liz Benjamin '09 contributed three ground balls and three caused turnovers. Kate Fowler '10 made five saves and finished with three ground balls and two caused turnovers.
Hamilton travels to Ithaca College for a non-league game on Wednesday, April 15.