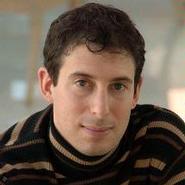 NYU's Eric Klinenberg to Speak in Levitt Series
Contact Holly Foster 315-859-4068
Posted October 19, 2009
Eric Klinenberg, professor of sociology at New York University (NYU), will present a lecture titled "Urban Crisis" on Wednesday, Oct. 21, at 7:30 p.m. in the Fillius Events Barn. His talk is part of The Arthur Levitt Public Affairs 2009-10 series "Crisis: Danger and Opportunity." All lectures are free and open to the public.

Klinenberg's first book, Heat Wave: A Social Autopsy of Disaster in Chicago, won six scholarly and literary prizes. His second book, Fighting for Air: The Battle to Control America's Media, was called "politically passionate and intellectually serious," (Columbia Journalism Review), "a must-read for those who wonder what happened to good radio, accurate reporting and autonomous public interest" (Time Out New York), and "eye-opening …required reading for conscientious citizens" (Kirkus). Since its publication, he has testified before the Federal Communications Commission and briefed the U.S. Congress on his findings.

In addition to his writings, Klinenberg runs the NYU Urban Studies Seminar.