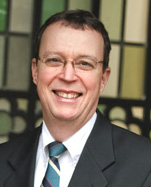 O'Neal Interviewed by Swiss Publication for Rousseau Tercentenary
Professor of French John C. O'Neal was interviewed, along with several other international scholars of Swiss philosopher Jean-Jacques Rousseau, for a special issue of L'Hebdo magazine.
O'Neal has dedicated a major portion of his career to Rousseau, writing a book on the author and editing two collections of essays on his autobiographical works. 2012 marks the 300th anniversary of Rousseau's birth, and numerous events all around the world have been planned. The special issue containing O'Neal's interview had a press run of 30,000 copies and appeared in January.