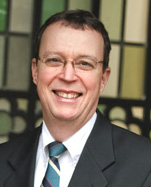 O'Neal Presents Paper in Austria
Professor of French John C. O'Neal presented a paper at the meeting of the International Society for Eighteenth-Century Studies, held every four years and which took place this year in Graz, Austria, from July 24-30.
O'Neal's paper, "Cultivating Critical Readers through Complex Narrative Time Frames in Crébillon's Les Egarements du coeur et de l'esprit, drew from his most recent book, The Progressive Poetics of Confusion in the French Enlightenment, published in March by the University of Delaware Press. The theme for the conference was "Time in the Age of Enlightenment: Situating the Present, Imagining the Future."