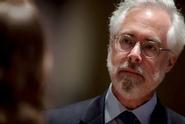 Pulitzer Prize-Winning New Yorker Writer Louis Menand to Lecture
By Holly Foster
Posted October 6, 2010
Pulitzer Prize-winning author and New Yorker magazine staff writer Louis Menand will give a lecture titled "What Every College Graduate Needs To Know" on Friday, Oct. 8, at 4:10 p.m., in the Chapel. The lecture is free and open to the public.

Menand is a professor of American literature at Harvard University. His award-winning research focuses on 19th and 20th century American cultural history. Menand's book, The Metaphysical Club (2002), won the Pulitzer Prize for history in 2002. He also authored American Studies (2002), a series of essays about American thinkers from T.S. Eliot to Jerry Falwell. His latest book, The Marketplace of Ideas: Reform and Resistance in the American University (2010), examines the benefits and drawbacks of long-standing educational institutions and philosophies in American colleges.

Menand is a long-time staff writer for the New Yorker. He received his bachelor's degree from Pomona College and earned his master's degree and Ph.D. from Columbia University. After teaching at Princeton and CUNY he became a member of the Harvard faculty in 2003, and has served on Harvard's Committee on Undergraduate Education.

Menand's lecture is being sponsored by the Office of the Dean of Faculty and hosted by the American Studies program, with the assistance of the Humanities Forum.