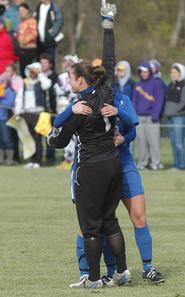 Women's Soccer Stuns Undefeated Williams
Hamilton moves on to NCAA quarterfinal game
Tags
Hamilton College moved on in the NCAA Division III championships tournament with a 2-1 sectional semifinal win against host and previously undefeated Williams College at Cole Field on Nov. 17.
Hamilton (16-1-2 overall) set a team record for wins in one season. The Continentals advance to the NCAA quarterfinals for the first time against Western Connecticut State University, who defeated Worcester State College 2-1 in double overtime. That game will be played again at Williams on Sunday, Nov. 18, at 1 p.m.
Erica Dressler '09 and Anne Graveley '11 scored the goals for Hamilton. Megan Brousseau '08 was credited with her first assist this year and took two shots. Caitlin McGilley '08 made eight saves. McGilley has a .60 goals against average and a .915 save percentage this season.
Dressler put the Continentals on the scoreboard in the 41st minute. Brousseau cleared the ball out of Hamilton's half of the field and found Dressler racing downfield. Dressler collected the ball and adeptly separated herself from a defender before carefully lacing a hard ball on the ground to the far right back of the net past a diving keeper.
The goal was Dressler's team-record 14th this year. She already set program records for most assists (10) and points (38) in a season this year. The Continentals have shattered their previous record for goals in one season with 55 this year.
Hamilton built on its 1-0 lead after the half, when Graveley notched her 10th goal unassisted in the 57th minute. Six of those 10 goals are game-winners. Graveley took the ball at midfield and found herself one-on-one in a foot race against a Williams. Graveley managed to beat the opposition on the right side of the net, and got off a well-placed kick to the far left post that found the back corner.
Williams (17-1-0) scored its lone goal on a penalty kick just 1:23 later. The Ephs had allowed just four goals all year coming into the game and none of their 17 opponents had scored more than one in any game. Williams was making its ninth appearance in the NCAA tournament. The Ephs' record dropped to 7-8-4 in the championships.
Williams held a 17-7 advantage in shots and both teams took four corner kicks. Hamilton finished with the advantage in the scoring column.