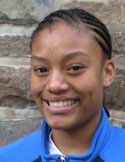 Women's Track & Field Athlete an All-American
Bond '09 Finishes Seventh in Triple Jump at NCAA Championships
By James Taylor | Contact James Taylor
Posted March 10, 2007
Tags
Hamilton College women's track and field athlete Akilah Bond '09 earned All-America honors as she finished seventh in the triple jump at the NCAA Division III Indoor Championships hosted by Rose-Hulman Institute of Technology in Terre Haute, Ind., on March 10.
Bond posted a mark of 11.09 meters (36-feet-4¾) on the last of three jumps in the preliminary rounds to join eight other athletes in the finals. Bond recorded jumps of 10.51 and 10.94 meters before she fouled on her last attempt in the finals. However, the 11.09 meters was good enough to finish in the top eight and make the All-America team.
Bond is Hamilton's second women's indoor track and field All-American. Maggie Hanson '02 was the 2001 national champion in the 5,000-meter run and earned All-America honors at the 2000 NCAA Championships in the 1,500 meters.
Bond's other jumps in the prelims measured 10.73 and 10.89 meters. City College of New York's Alecia Watson won the triple jump with a distance of 12.17 meters. Bond set a school record in the triple jump in February with a mark of 11.51 meters at Cornell University.