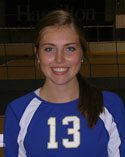 Women's volleyball evens record with win
Contact Jim Taylor 315-859-4685
Posted September 26, 2012
Brenna Corrigan '14 recorded her fifth double-double of the year with 12 kills and 10 digs as Hamilton College defeated SUNY Institute of Technology in four sets in a non-conference match at Hamilton's Margaret Bundy Scott Field House on Sept. 25.

The Continentals (6-6 overall) won by scores of 25-20, 25-18, 19-25 and 25-22. Hamilton owned an 8-3 advantage in total team blocks. The Continentals host Trinity College for a NESCAC match on Friday, Sept. 28.

SUNYIT (3-14) hit just .008 as a team, and recorded 10 attack errors in the second set alone. The Wildcats host Sage Colleges and SUNY College at Old Westbury on Friday.

Corrigan entered the week ranked sixth in the conference with 2.95 kills per set. Courtney Somerville '16 hammered a season-high nine kills and added three blocks. Erin Casey '15 smacked eight kills.

Emma Lonadier '15 was credited with a career-high 30 assists and Sarah Pfund '14 added 12 assists and two aces. Anna Brown '15 led the defense with 22 digs and served two aces. Ally Martella '13 chipped in a match-high five blocks to go with two aces. Jamie Granskie '16 contributed 11 digs and Blaire Frett '16 finished with three blocks.

Tessa Gaglianese '14 paced SUNYIT with seven kills. Kaitlyn Harrington '14 boasted six kills, 11 digs and two aces. Hanne Saarinen '14 ended up with five kills, Taviot Jackowski '14 passed out 22 assists, Erika Reakes '16 had posted two aces, Jessica Sass '13 had 22 digs and Deasia Goodson '16 led the team with two blocks.