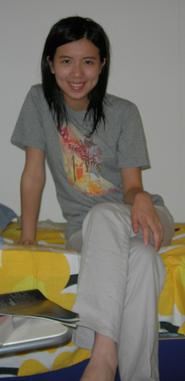 Xin Wang '09 Researched Chinese Children from Different Socioeconomic Backgrounds for Levitt Project
Focused on Consumptive Behavior
Tags
"I've always been thinking about this sharp transition from the traditional big family to the '124 family' (one child, two parents, four grandparents)," said Xin Wang '09 of her Levitt summer research project. Advised by Cheng Li, the William R. Kenan Professor of Government, Wang spent her summer researching Chinese single children from different socioeconomic backgrounds with a special focus on their consumptive patterns.
In 1982 the Chinese government introduced a family planning program which encouraged couples to restrict their family size to one child. The result was a generation mostly of single children, or "singletons," as they are called, who are now in college and entering the workforce. Many studies have been done on this group, but Wang explained that little previous research had "investigated the affect of different socioeconomic backgrounds on single children, their families and the society."
Wang's research into this topic had a double agenda: she was interested in looking at how singletons related to each other and also the differences between urban and rural children. Because of socioeconomic factors as well as a more stringent enforcement of the One Child Policy in the cities, she expected to see a number of differences in behavior and consumptive activity between children in the two areas.
Wang had planned to carry out her research by conducting a strenuous literature review, administering her own interviews and surveys, and presenting the results in a paper. She had designed the project to capitalize on her own abilities and contacts. Herself a singleton, Wang grew up in the rural Chinese province of Shandong, attended schools in various cities and high school in Shanghai. She explained that she knew many singletons her own age from a number of different backgrounds, contacts she could easily interview.
A first-time summer researcher, Wang found that the actual practice of doing research altered her plans. She explained that conducting interviews for this type of research required professional training, and that she lacked the time and resources to do a study as wide as her topic demanded. "I focused more on doing [a] literature review this summer," Wang said. She mentioned that, although she may not use her interviews in her final paper, they had "provided many valuable insights."
Wang hopes to return to her topic at some point after this summer. She would like to come back to it as she gains more of the research skills necessary for conducting this kind of a study: "academic interview [techniques] and survey skills as well as data analysis skills."
Wang, a double major in psychology and math and an art minor, is a member of the table tennis club and plays intramural badminton. She is also the treasurer of the Asian Cultural Society, a TA for Chinese courses, and an employee in the music library. She will be an RA this year.
Her research this summer was funded by the Levitt Research Fellows Program. The program is open to all students who wish to spend the summer working in collaboration with a faculty member on an issue related to public affairs. Students receive a summer stipend and spend ten weeks in the summer working intensively with a faculty mentor.

-- Lisbeth Redfield