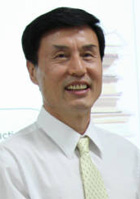 Xu Gives Talk at Minzu University
Professor of Chinese De Bao Xu was invited by Minzu University of China, Beijing, to give a talk on technology-based Chinese language teaching in July. The audience consisted of graduate students in Teaching Chinese as a Second Language at Minzu University's College of Education.

Xu's talk was titled "An Overview of the Development of Technology-Based Chinese Language Teaching from 1970-2010. He discussed the theoretical basis for using multimedia in second language acquisition; the pros and cons in using technology in Chinese language teaching; and. an overview of the multimedia Chinese language teaching over the past 40 years.