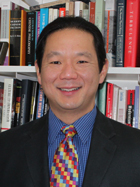 Yao Co-Edits Volume of Essays on Ezra Pound and Education
The volume, Ezra Pound and Education, co-edited by Professor of English Steve Yao, was recently published by the National Poetry Foundation. The idea for this collection originated at a conference co-hosted by Hamilton College and Colgate University in 2005 observing the centenary of Pound's graduation from the College.
As part of its investigation into the complex relationship between Ezra Pound and both the idea and practice of education, this volume features the work of several other Hamilton graduates, including essays by Molly (Wilson) Chung '05, Jake Hartnett '05 and Justin Jones '06. In addition, the cover of the volume features a painting of Pound by Roman Tybinko that is part of the Hamilton College Portrait Collection.