2013-14 Senior Fellow
Emma Laperruque '14 Cooks Up Unique Senior Fellowship
During the spring semester of her junior year, Emma Laperruque '14 went to a place few students go: the basement kitchens of the Soper Commons Dining Hall. She was down there to complete a photography project of her own design focused on how students and the dining hall staff respectively view the space. After meeting with her advisor, professor of Creative Writing Tina Hall, Laperruque made a big decision: she decided to pursue a Senior Fellowship project centered around food—specifically, how the millennial generation relates to what they cook and eat. More ...
2012-13 Senior Fellows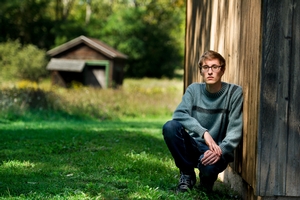 Capturing Rural Decay Through Poetry and Film
Senior Fellow Marty Cain Examining Gradual Unraveling of Country Life in U.S.
With hundreds of Walmarts and large malls spreading across the United States, shoppers can enjoy more convenient, sometimes cheaper goods, from groceries to car tires. While smooth highways bridge millions of Americans to glossy new shopping opportunities every year, the nation places less value on the quiet pastoral state that it once treasured. Marty Cain '13 is exploring this dichotomy of lifestyles for his senior fellowship, The Poetic Art of Rural Decay: Reinterpreting the Pastoral with a Surreal Sense of Place. More ...
Road Scholar
Senior Fellow McKayla Dunfey Studying Influence of Bicycling in Urban Environments
Bicycling has many measurable benefits. It saves money on gas and other transportation costs, it is good for the rider's health, and it benefits the environment. However, there is another aspect to bike riding that is often overlooked and cannot be measured with ease; riding a bicycle changes how the cyclist experiences his or her surroundings. In an urban area, biking can help define the relationship between cyclist and city. More ...