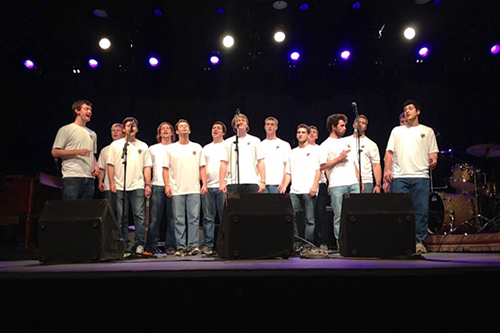 The Buffers perform at the John Lennon tribute concert at Symphony Space on Manhattan's Upper West Side on Dec. 6, 2013.
A student's pursuit: a career making music
He's always loved and made music, but when Andrew Rippel '14 started at Hamilton College, he had no idea what he wanted to do with his life. That's changed for the music major – Rippel discovered music production and plans to make a career of it.
More >>
"Some kind of studio work is going to make me happy," says Rippel, who spends hour after hour each week working in the studio. The focus of his major is composition. He sings in four college groups and is music director of The Buffers, an a capella ensemble. The Buffers recently performed at a star-studded John Lennon tribute in New York City.
Rippel acknowledges the challenges of making a living in music, but says Hamilton has prepared him well. He credits Professor Sam Pellman, in particular, for his knowledge and mentorship. His studies stretch further than music. He's close to a minor in sociology, anthropology and psychology.
"I'm confident in the education I've gotten from this place to equip me to be successful at some point," Rippel says.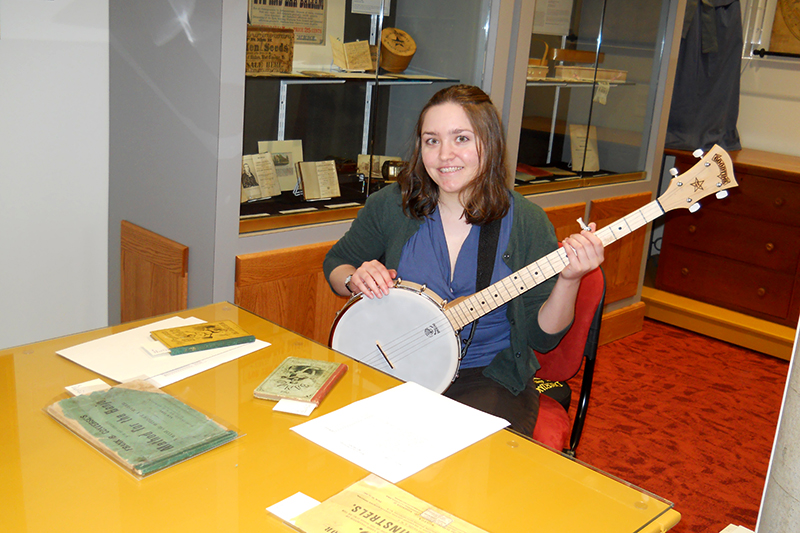 Catherine Crone '13
A graduate's path: a fellowship, academic aspirations
Catherine Crone '13, who double-majored in music and math, capped a distinguished career at Hamilton College by winning a prestigious Royster Fellowship at the University of North Carolina at Chapel Hill. She's studying musicology and hopes to make a career in academics.
More >>
At Hamilton, Crone managed to excel in class and take on a range of extracurricular ventures. She and Professor of Music Lydia Hamessley won an Emerson Summer Grant to research banjo instruction manuals from the 19th century. In the spirit of hands-on research, Crone, who plays classical piano, attempted to teach herself how to play the instrument by using the manuals. They are from an extensive and unique collect of banjo-related material that is part of the College Rare Book Room. As part of the research project, Crone and Hamessley worked to create content for an interactive, public website about the banjo and its history.
Crone was elected to Phi Beta Kappa and was a Dean's List student at Hamilton. She won the Madeleine Wild Bristol Prize Scholarship in Music and was a member of the College Choir.