A music student's approach: explore all your interests
With so many interests besides music –history, classical studies, German – Paul Westin '15 decided against attending a conservatory. That would have narrowed his focus. He wanted to explore, which led him to Hamilton College. "Hamilton in particular stood out to me for a number of reasons, but the open curriculum was the biggest draw for me. Being able to take basically anything you want outside of your major appealed to me," says Westin, a music major who studied for a semester in Germany.
More >>
The resources Hamilton provides for students caught his eye, too. "From academic resources like the Writing Center to providing clubs with large amounts of funding for on campus events, Hamilton really goes all out to create a fantastic experience for students," he says. He is making it a point to try a variety of courses, from introduction to computer science to Shakespeare. Still, he's leaning toward a career in music education.
Westin's principle instrument is the alto saxophone, and he plays a little guitar and piano. "My senior thesis is going to be arranging a number of tunes for various­sized jazz ensembles. I'm thrilled to be able to do this, as it puts theory into practice," he says.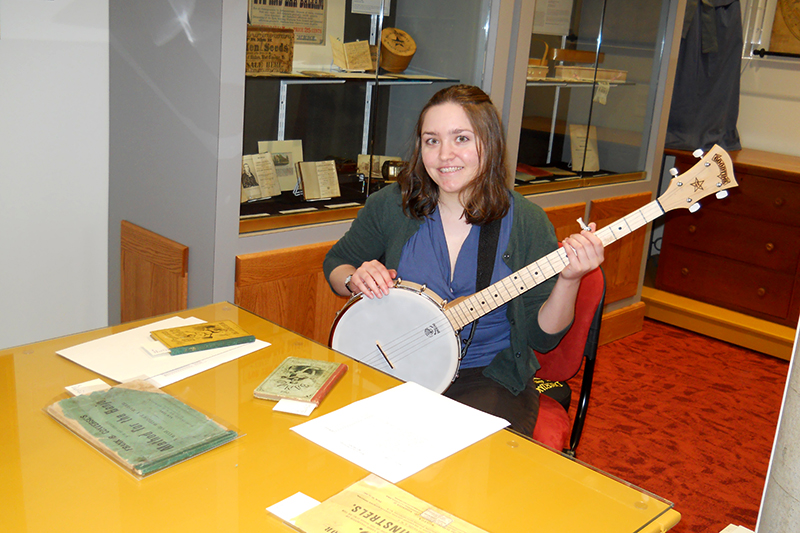 Catherine Crone '13
A graduate's path: a fellowship, academic aspirations
Catherine Crone '13, who double-majored in music and math, capped a distinguished career at Hamilton College by winning a prestigious Royster Fellowship at the University of North Carolina at Chapel Hill. She's studying musicology and hopes to make a career in academics.
More >>
At Hamilton, Crone managed to excel in class and take on a range of extracurricular ventures. She and Professor of Music Lydia Hamessley won an Emerson Summer Grant to research banjo instruction manuals from the 19th century. In the spirit of hands-on research, Crone, who plays classical piano, attempted to teach herself how to play the instrument by using the manuals. They are from an extensive and unique collect of banjo-related material that is part of the College Rare Book Room. As part of the research project, Crone and Hamessley worked to create content for an interactive, public website about the banjo and its history.
Crone was elected to Phi Beta Kappa and was a Dean's List student at Hamilton. She won the Madeleine Wild Bristol Prize Scholarship in Music and was a member of the College Choir.