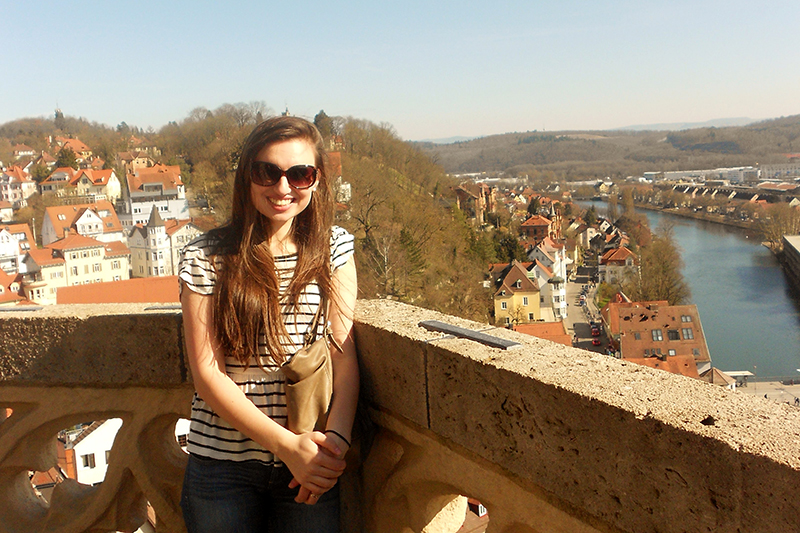 Danielle Gauthier '15 on a tower in the Altstadt of Tuebingen, Germany.
A student's dual passions reveal a career path
Danielle Gauthier '15 believes in following one's academic passions, which for her meant a double major in German studies and English. Study in Germany improved her language skills and gave her a chance to teach English to schoolchildren. The whole experience cemented her desire to teach English in Germany after she graduates. If she hadn't followed her two passions, Gauthier says, she never would have discovered her love for teaching English as a second language. Her many activities on the Hill have included teaching English at a local refugee center.
More >>
When Gauthier picked Hamilton College, she was looking for intimate classrooms and invested professors. She says discussion between peers and professors were encouraged form day one.
"One of my most enjoyable and challenging courses at Hamilton was 'Goethe to Grass', as it combined my interest in analyzing literature with my interest in the German language," she says. "Frau Toegel, our professor, consistently encouraged us to dig deeper into the text: to notice the language usage, the sentence length, the recurring motifs. It was beyond satisfying to realize that I had reached a proficiency where I could study original German texts as I would English novels.

Emily Johnston '10 in Germany.
A graduate's progress: building a business
Emily Johnston '10 wasn't thinking about jobs when she chose German as one of her majors (history is the other) at Hamilton College, but her affinity for the language helped inspire a career. She is parlaying her language and knowledge of Germany into her own business, Wanderlust Travels, a summer program in Germany for high school students.
More >>
Her knowledge of all things German was fueled by a Fulbright Teaching Fellowship there, which she embarked on right after college graduation. After the fellowship ended, she stayed an extra year in Germany, taking classes in organic chemistry, anatomy and other subjects related to her interest in Eastern medicine. Johnston continues to study Eastern medicine as she builds her business.
It sounds corny, she acknowledges, but a big motivator for her business is to share the kind of experiences Hamilton helped bring her.