A musician's choice: branching out with liberal arts
Music was always Adelaide Fuller '17's choice as a major, but she wanted a liberal arts school, not a conservatory. 'The beautiful thing about a Hamilton music education is that I get to grow in so many ways that do not include music, and the community is a nurturing and supportive one," says Fuller, whose focus is vocal performance. She's taken English and history courses and wants to challenge herself with science or econ. She did a College-funded summer internship at Brooklyn Bowl, a music venue in Williamsburg. "Not only have I been exposed to all sorts of cool music, but I've learned so much about the intricacies of the music industry: managing social media and the website, researching and contacting potential acts, money management, risk-taking, etcetera," she says.
More >>
Fuller is active in the extracurricular music scene: the Hamiton College Choir, the College Hill Singers chamber choir, the College Jazz Band. And she's a member of the Hamiltones, a co-ed a cappella group. She will be its music director when she returns from a semester in Ireland. Fuller has lots of ideas about what she might do after she graduates. Her main interests at the moment: performing, choral conducting, studying the role of women in the music industry, learning more about the psychological effects of music on humans anD – eventually – teaching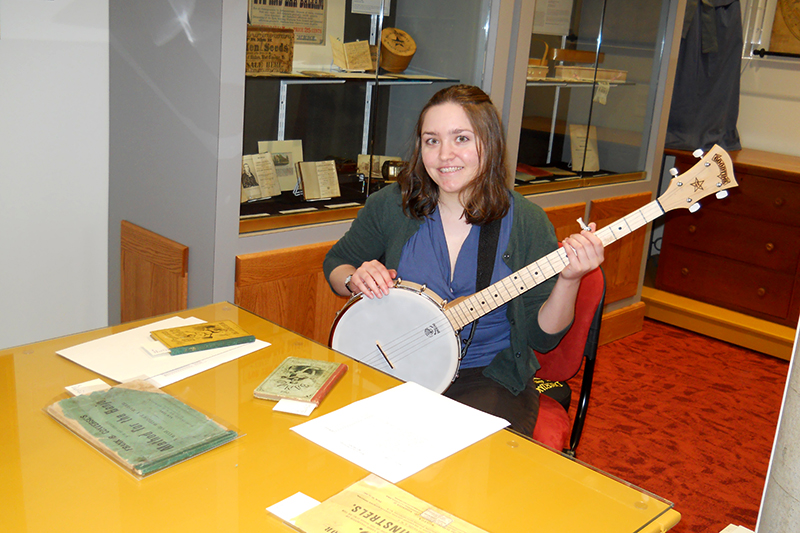 Catherine Crone '13
A graduate's path: a fellowship, academic aspirations
Catherine Crone '13, who double-majored in music and math, capped a distinguished career at Hamilton College by winning a prestigious Royster Fellowship at the University of North Carolina at Chapel Hill. She's studying musicology and hopes to make a career in academics.
More >>
At Hamilton, Crone managed to excel in class and take on a range of extracurricular ventures. She and Professor of Music Lydia Hamessley won an Emerson Summer Grant to research banjo instruction manuals from the 19th century. In the spirit of hands-on research, Crone, who plays classical piano, attempted to teach herself how to play the instrument by using the manuals. They are from an extensive and unique collect of banjo-related material that is part of the College Rare Book Room. As part of the research project, Crone and Hamessley worked to create content for an interactive, public website about the banjo and its history.
Crone was elected to Phi Beta Kappa and was a Dean's List student at Hamilton. She won the Madeleine Wild Bristol Prize Scholarship in Music and was a member of the College Choir.