HAVOC HELPS...
Hamilton Association for Volunteering, Outreach and Charity encourages students to get off their couches, get off the Hill, and get into the community to create change. As a part of the largest student-led organization at Hamilton, HAVOC volunteers make new friends, build leadership skills, and, most importantly, make a difference in people's lives every time they volunteer.
HAVOC has numerous opportunities to get involved and volunteer and can fit anyone's schedule.
Recent News
The Spirit of Giving
By Holly Foster 315-859-4068
December 17, 2012
In what has become an annual tradition, Hamilton Association for Volunteering Outreach and Charity (HAVOC) and Community Opportunity and Outreach Project (COOP) collected food, gifts and other items to make the holidays a bit happier for some local families in need.
HAVOC sponsored a holiday Mitten Tree bearing gift requests from children in need and collected 84 gifts that included toys, teddy bears and hats and mittens.
COOP held an employee drive and collected 26 bags of food, 6-8 gifts each for 10 children at United Cerebral Palsy (UCP), 30 items for House of Good Shepherd residential cottages, and more than $700 in monetary donations that will be used to buy gifts for UCP, House of the Good Shepherd, Johnson Park Center and Hope House.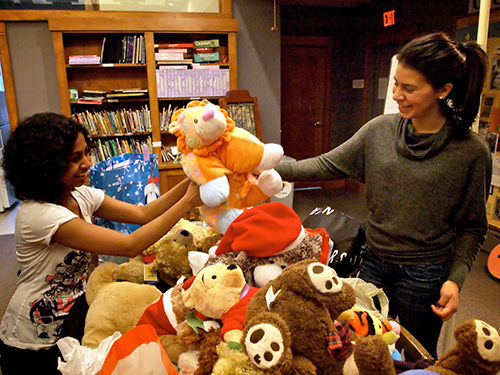 Students Make a Difference at Local Volunteer Sites
By Esther Malisov '13
Contact: Holly Foster 315-859-4068
September 17, 2012
More than 150 Hamilton students took part in this year's annual Hamilton Association for Volunteering Outreach and Charity (HAVOC) Make a Difference Day. Dressed in bright green HAVOC t-shirts, students signed up for a wide range of volunteer opportunities to engage in for the day, from homes for the elderly to animal sanctuaries. Some arrived as individuals, others in groups of two or three, and many others preregistered in groups of eight or more, representing a variety of student organizations around campus. All students came with one united purpose in mind: to reach out to the greater community around Hamilton.

Students were dispatched to volunteer sites around the Rome, Utica, Clinton, Oneida, and Bouckville areas. Sites included the Rome Humane Society animal shelter, Chanatry's Hometown Market in Utica, Rome Clean and Green, and Chenango Canal. Despite the large diversity in the destinations, students expressed a general feeling of fulfillment and engagement, regardless of where they volunteered.

Prior to departure for individual volunteer sites, HAVOC Director and Community Opportunity and Outreach Project (COOP) Senior Fellow Danielle Lashley '13 addressed all volunteers with a few words of encouragement. She emphasized that "The sites you'll be visiting love having Hamilton students," and volunteer site employees "love having [students] come back, year after year." Amy James, Director of COOP, then spoke to the sizable crowd. She stressed that, even though some students may encounter somewhat menial task assignments, it is important to remember that "whatever you're doing out there means a lot" to the organizations that students visit.

At the Spring Farms Cares animal sanctuary and adoption center, five students worked with shelter employees to fold freshly-washed linens, clean cat room floors, and show dozens of cats care and attention. Spring Farms Cares is a no-kill sanctuary that houses and nurtures approximately 250 animals daily, including dogs, cats, horses, donkeys, and one goose.

Founded in the late 1980s as a nonprofit organization, the shelter aims to rescue as many pets as possible while educating the public about spaying and neutering pets. As Kim Robertson, the animal care manager at Spring Farms Cares explained, the organization ultimately aims for enough "animals for every home, but not animals without homes." She went on to say that to keep Spring Farms running, the shelter relies on its volunteers, some of whom come from Hamilton weekly, though employees welcome students on any day of the week.

Andrea Blood '13, who has participated in three previous Make a Difference Days, found her time at Spring Farms cares to be a positive experience since interacting with the animals "helped the cats, especially those who had been abused, to become reacclimatized to a friendly human environment and prepare them for eventual adoption." Her fellow volunteers echoed this sentiment, and one student requested the shelter's contact information so that she may return on her own for further volunteering.

Students at Dunham Public Library had an equally rewarding and enjoyable experience, working to help sort and organize books as well as a variety of other projects, including setting up crafts for a children's workshop for Grandparents' Day. Brian Sobotko '16 believes that Make a Difference Day represents the opportunity to "get to leave the Hamilton Community and interact with the general community around us." Jane Barnard '13 added that the group worked well together, making seemingly tedious tasks such as sorting books fun.

The Dunham Public Library group also featured six students from BSLU, who preregistered together to ensure that they could work as a team at one site. Sara Wortman '15, the Philanthropy Chair of BSLU, believes that participating in Make a Difference Day is "one of the steps toward building a [Hamilton student] presence off-campus."

In light of all the effort and tireless planning that goes into such a large-scale event, Lashley views this year's Make a Difference Day as a success. One group of students even approached her on the day of the event in the hopes of scheduling regular volunteering trips to the site they visited. Lashley explained, "That is one of those amazing moments when a group of students finds their volunteer niche—where they really feel like they can make a difference (pun intended) and are passionate about sustaining the contribution in the long-term."
HAVOC Bursts the Bubble
Students Volunteer, Host SpringFest Community Event
By Grace Fulop '13
April 16, 2012
April 9-14 marked the first Hamilton Association for Volunteering, Outreach, and Charity (HAVOC) Outreach Awareness Week at Hamilton. The purpose of Awareness Week, dubbed "Burst the Bubble," was to illustrate volunteer opportunities at Hamilton and to stress the value of community outreach. HAVOC sponsored and organized a variety of volunteer opportunities, speakers and events throughout the week, culminating with SpringFest on Saturday.
Last semester HAVOC surveyed the student body and found that many felt that they did not know how to get involved with volunteering at Hamilton. Outreach Awareness Week was therefore designed to help students get more involved in the local community and to help show why outreach is so important. HAVOC Executive Board Events Coordinators Samantha Schwartz '13 and Jake Blumenfeld '15 were the leaders in organizing and carrying out the events of the week. "We (at Hamilton) are in a perfect location to make real change in our community," said Schwartz.
Throughout the week HAVOC's regular volunteer sites ran, such as mentoring children at Johnson Park Center in Utica, assisting the elderly at the Lutheran Home in Clinton, and taking care of animals at Spring Farm Cares in Clinton.

In addition, HAVOC sponsored a variety of special events. Hamilton athletes played basketball and soccer with children from the Neighborhood Center in Utica and Kids Oneida.

Three Hamilton alumni and Career Center counselor Leslie Bell spoke in a panel about what it's like to work in a non-profit and how to pursue a career in that sector, and Tyrone Pitts and Rev. Ursula Meier from Johnson Park Center served as the week's keynote speakers. Pitts and. Meier spoke about their personal experiences with addiction and recovery, and their work today helping people get their second chance through places like Johnson Park Center. The non-profit organization provides emergency supportive housing for women, children and families, as well as a range of community-based support services in the areas of nutrition, recreation, mentoring and advocacy.

The week came to a close with SpringFest on Saturday, a day of community building between Hamilton and Clinton families. Thirteen campus clubs ran booths with crafts, games and food, in addition to performances by Hamilton a cappella groups.

Blumenfeld believes that the events of Outreach Awareness week had a great impact on Hamilton students. "It was a privilege witnessing children from the surrounding areas engage in sports on campus. The look of joy on their faces and the support I received from the faculty and students made this week all the more special," said Blumenfeld.

The week was a great hit, but HAVOC Director Danielle Lashley '13 hopes that it will be even more successful in the future. "It is always hard introducing a new event on campus," said Lashley, "but the next time we host Awareness Week the campus will be familiar with the mission of the week, and we will hopefully get even more attendance."

HAVOC hopes that the events of Outreach Awareness Week will encourage more Hamilton students to get more involved with volunteering and "bursting the bubble" between Hamilton and the local community now and in the future.

More than 100 students went out to serve the local community on Saturday, Jan. 21, for Hamilton's 14th annual Martin Luther King Jr. Service Day. Hamilton Association for Volunteering, Outreach and Charity ( HAVOC) sent groups of students to 17 different sites to volunteer for the afternoon. More ...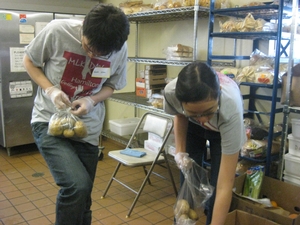 2nd Annual Dodgeball Tournament raises $400 for Global Goodness
Sixteen teams battled for the title of Hamilton College dodgeball champions. Some teams were groups of friends, others were off-season sports teams, and still others fraternities or sororities. One thing they all had in common, however, was a desire to support Global Goodness, a non-profit that aims to bring increased educational materials to students in some of the world's poorest countries. To learn more check out www.ggoodness.com.
Check out the pictures below!
| | |
| --- | --- |
| The crowd waits for the action to begin. | The winners of our best-dressed competition celebrate. |