0597C841-92B9-0CF9-C8A3DC414319A2DC
D3446018-BD1B-0148-ECC9838FB4A149AD
Special Giving Levels
$200,000 or more
$100,000 - $199,999
$75,000 - $99,999
$50,000 - $74,999
$20,000 - $49,999
$10,000 - $19,999
$5,000 - $9,999
$2,500 - $4,999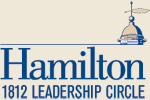 GOLD members are invited to join the 1812 Leadership Circle at special introductory levels. Alumni 1-4 years post-graduation qualify for membership with gifts of $1,000 or more, and alumni 5-9 years post-graduation qualify with gifts of $1,500 or more.
$1,500 - $2,499
$1,000 - $1,499
$500 - $999
$250 - $499
Up to $249

Alexander Hamilton Associates
Continental Associates
Buff & Blue Associates
Achievement Club
Donor
About the Honor Roll of Donors
You Support Hamilton's Present and Ensure its Future
Throughout its 201-year history, Hamilton has been sustained by the generosity of its alumni, parents and friends. In the year of the College's bicentennial, more than half of all alumni have once again continued that legacy of support with a gift to the Annual Fund, exceeding both dollar and participation goals.
Hamilton's highly personalized education allows young scholars to forge meaningful relationships with faculty mentors and take what they learn out into the world for the betterment of their professions and their communities. Gifts to the Annual Fund are an investment in the most worthy of causes — tomorrow's leaders.
It's Who We Are.