Please Edit to add slideshow images
In This Issue
by Maureen A. Nolan
Instead of allowing grief and loss to define her, Patty Dunne Lewis '88 decided to honor the memory of her husband, Adam Lewis '87 — and the transformational impact education made in his life — by opening a preschool for low-income children. More ...
by Charlotte Hough '14; photos by Nancy L. Ford
Take a behind-the-scenes look at the last student production to be staged in Minor Theater. Built in 1872, the library, turned infirmary, turned performance space, will enter its next life as a residence hall in 2015. More ...
by Maureen A. Nolan
A decade ago this spring the first same-sex marriages took place in Massachusetts, and last year the Supreme Court struck down Section 3 of the Defense of Marriage Act. Behind each landmark victory on the road to marriage equality is attorney Mary Bonauto '83, known as a "giant" in the marriage-rights movement. More ...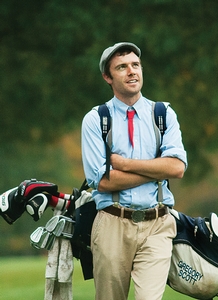 PHOTO: MIKE DOHERTY
GREAT SCOTT! Looking dapper on the links, Greg Scott '14 was also a standout with his clubs. This year's Riffle Award winner for outstanding senior male athlete, he was voted to the Golf Coaches Association of America All-America third team and to the All-Freshman Team in 2011. Scott shares the team record for best 18-hole score with a 67. Having led the team to two appearances in the four-team NESCAC championship, his career average for an 18-hole round is 75.4 strokes.