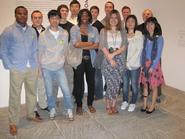 NYC Program Students Visit Whitney Museum
The students in Hamilton's NYC program participated in their first organized cultural outing as a group, visiting the Lyonel Feininger exhibit at the Whitney Museum on New York's Upper East Side on Oct. 12.
Hamilton students in the New York program enjoyed a guided tour of the exhibit, which takes up the entire third floor of the museum. Feininger's work at the museum includes oil paintings, wood carvings and cutouts, as well as sculpture, and spans most of his lifetime, displaying his development as an artist. Following the tour, the students had the opportunity the roam the exhibit at their leisure or explore the remainder of the museum.