Student Profile
Amber Wheeless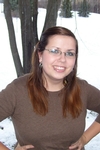 Class: 2011
Hometown: Worland, WY
Major: Religious Studies
Minor: Art History
Activities: Womyn's Center, Rainbow Alliance, Project SHINE tutor, Emerson Collaborative Research Grant recipient, HEOP Summer Programs RA, Alternative Spring Break, Academic Center for Excellence supervisor, Wellin Hall tech crew
Travelled through SIT's study abroad program in New Delhi, India.
"The Opportunity Program is my support system and family here at Hamilton. My peers and mentors in the Program are here both to help me when I am struggling and to celebrate with me when I succeed. Being a part of the Opportunity Program encourages me to be the best version of myself by making me accountable for my own personal and academic excellence. I couldn't be more thankful for the resources and support the Program provides me with each and every day."