Author:
Julia Jacquette, Artist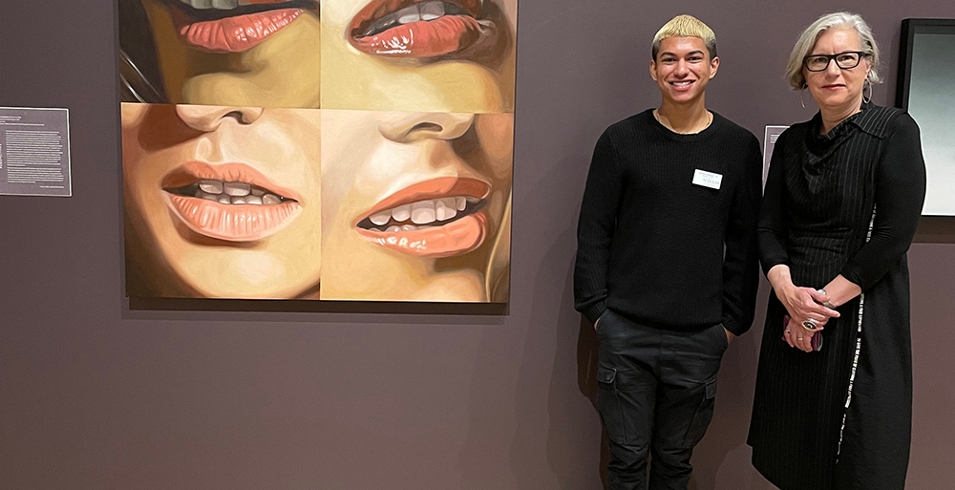 Wednesday, November 30, 2022
As an artist who has had the pleasure of being a visiting artist at the Wellin Museum on several occasions, the key word that comes to mind when thinking about my visits is interaction. I know from talking to other Wellin artists (artists that have exhibited and visited the Wellin), that we all end up having tremendous interaction with the Wellin Staff, the Hamilton Community, and also the public (who come to the Museum events in person, and also virtually).
All the conversations I have with the individuals in these various categories turn out to be informative and engaging. And the most moving and memorable conversations are, for me, the ones with Hamilton students. During my October 2022 visit, and my January 2017 visit, I was taken aback by the intelligence, enthusiasm, and openness of the Hamilton students I engaged with. Hamilton students inspire ME. Some of my interactions with Hamilton students included Wellin student docents interviewing me for the magazine they started, Collection (what a great idea for a communal project), and participating in having a public conversation in the Wellin galleries with student Josh Zeledon.
During my week at the Wellin, the museum arranged numerous dinners for me and various groupings of Wellin staff members, some I knew well from the time I spent at the museum during my 2017 exhibition, some new to me. The fact that Director Tracy Adler is committed to the artists getting to know the Wellin staff is deeply meaningful to me - an acknowledgement that everyone counts at an institution.
Assistant Curator Alexander Jarman was my constant companion during my October 2022 visit, and music was a constant conversation as we motored from one event to another. He introduced me to an aspect of Hamilton I didn't know about previously - the Fillius Jazz Archive.
Being "up" at the Wellin also gives me a chance to revisit artworks in the collection that I've grown to love, and also to become acquainted with artworks new to the Wellin's collection. Renee Stout's sculpture, House of Chance and Mischief continues to reveal new details and meaning every time I see it. One of my favorite things about this piece is the fact that the artist wrote on the back of the sculpture lists of the music she was listening to and the perfume she was smelling while she was working on it.
Oh, and also, during each visit to Clinton and its surrounding area, I've been treated to excellent meals and have noticed that the movement to feature local ingredients and products is alive and well in Central NY State. And this visit had the best version of Utica Greens I've had so far.
More Blog