Tracy L. Adler, Johnson-Pote Director
Tracy L. Adler is the Johnson-Pote Director of the Ruth and Elmer Wellin Museum of Art at Hamilton College which opened to the public in October 2012 under her leadership. Prior to her directorship at the Wellin, she was the principal at Adler Arts and the curator of the Hunter College Art Galleries in New York City. She received a BA from Skidmore College and earned an MA in art history from Hunter College. At the Wellin, Adler has curated several major exhibitions with accompanying publications including Dannielle Tegeder: Painting in the Extended Field (2013), A Sense of Place (2013), Alyson Shotz: Force of Nature (2014-15), Yun-Fei Ji: The Intimate Universe (2016), Julia Jacquette: Unrequited and Acts of Play (2017), and Jeffrey Gibson: This Is the Day (2018). In 2017, she was awarded first prize by the Association of Art Museum Curators for the publication accompanying the exhibition Yun-Fei Ji: The Intimate Universe.
Katherine Alcauskas, Collections Curator and Exhibitions Manager
Joining the museum staff in April 2015, Alcauskas previously worked as Collection Specialist in the Department of Drawings & Prints of the Museum of Modern Art, New York, and as the Florence B. Selden Senior Curatorial Fellow in the Department of Prints, Drawings, & Photographs of the Yale University Art Gallery. She earned her Master's Degree in 2008 from the Williams College / Clark Art Institute Graduate Program in Art History, where she was awarded the Judith M. Lenett Fellowship, and a Bachelor's Degree from Wellesley College. She was a contributor to MoMA Highlights: 350 Works from the Museum of Modern Art, revised edition (2013), curated the Yale University Art Gallery exhibition The Pull of Experiment: Postwar American Printmaking, and has given numerous conference papers. She serves on the board of the Association of Print Scholars.
Alexander D'Acunto, Security Manager
Joining the museum staff in 2013, D'Acunto brings over 40 years of security experience to the museum. He has a comprehensive knowledge of investigative and interrogative practices and has been recognized by law enforcement agencies for outstanding performance in emergency preparedness. Trained as a first-responder for disaster situations he is also CPIM, EMS, AED and Bloodborne Pathogen Certified. D'Acunto holds a MBA in accounting and criminal justice from Utica College/Syracuse University.

Brie Engle, Lead Security Officer
Joining the museum staff in 2014, Engle assists the Security Manager in the administration of the museum security team as a Certified Institutional Protection Manager (CIPM). Engle received her bachelor's degree in criminal justice from the University of New Haven, graduating magna cum laude, with a minor in Sociology.
Amber Geary, Museum Educator and Docent Program Supervisor
Joining the museum in 2013, Geary created and presently supervises the K-12 and community education program, as well as the student docent program. She recently concluded a two-year qualitative research project funded by the Andrew. W. Mellon Foundation that focused on the relationship between public school educators and museum education programs. With a background in both marketing and art education, she believes that art benefits the study of every subject, at every level of learning. Geary holds a B.F.A. in Visual Communications from Cazenovia College and a M.S. in Art Education (K-12) from Syracuse University.

Christopher Harrison, Building Manager and Museum Preparator
Harrison comes to Hamilton College following 16 years with Harvard University's Dumbarton Oaks in Washington, D.C. as their Exhibit Designer and Senior Museum Specialist. During his time in Washington, Harrison enjoyed collaboration with Institutions such as the Hirshhorn Museum and Sculpture Garden, The National Museum of Natural History, The National Museum of Women in the Arts, The National Museum of the American Indian, and the Smithsonian American Art Museum. He studied museum conservation for works on paper with Leslie Paisley, Conservator of Paper at the Williamstown Art Conservation Center, received his certificate from Duke University in their Masters Workshop in Overhead Rigging and did his undergraduate work at Xavier University in their Bachelor of Fine Arts Program with a focus in Welded Steel Sculpture.

Emma Pfeifer, Office Assistant
Joining the museum staff in July of 2018, Pfeifer assists with the day-to-day administrative needs of the museum and with special projects. She received her bachelor's degree in art history with minors in history and Asian studies at SUNY Purchase.
Michelle Reynolds, Curatorial and Programming Coordinator
Joining the museum staff in 2016, Reynolds has over five years of experience working in museums and alongside internationally recognized artists. Her academic and professional work revolves around the ways in which audiences interpret and interact with works of art. At the Wellin, Reynolds assists with curatorial projects and facilitates ongoing outreach efforts with the Hamilton College community while managing the museum's social media presence and coordinating marketing and publicity efforts. She holds a bachelor's degree in art history and history from the University of Puget Sound and master's degrees in art history and museum studies from Syracuse University.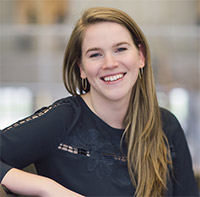 Amy Sylvester, Office Administrator
Joining the museum staff in June of 2013, Sylvester manages the general operating budget and endowment funding for the museum. She also is the content editor for the website, manages the attendance tracking system, and oversees museum events. Sylvester received her bachelor's degree in art history from Principia College and her master's degree in museum studies from Syracuse University.