An Intimate Inspection of The Intimate Universe:
Performing a Condition Check on Yun-Fei Ji's Three Figures
Author:
Cornelia Smith '19
Photo Credit
Photographs by John Bentham. Images courtesy of the Ruth and Elmer Wellin Museum of Art at Hamilton College.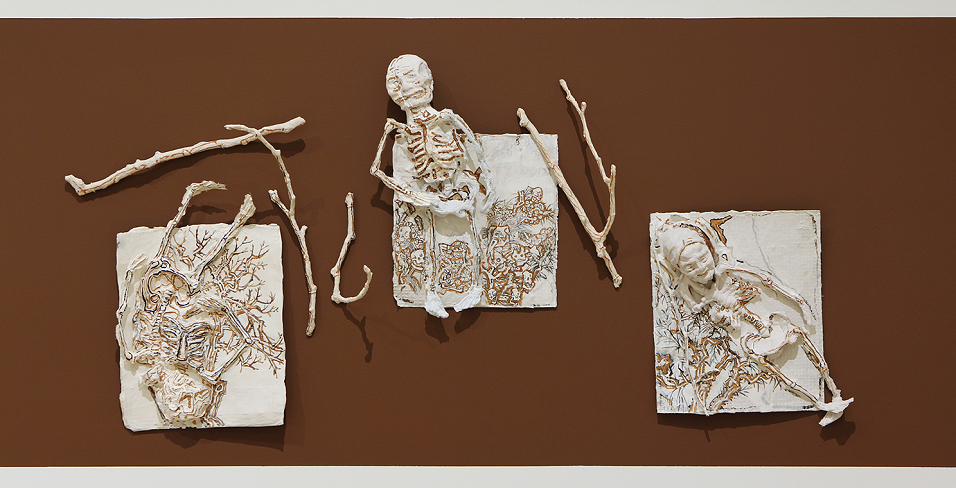 A few weeks before the works of Yun-Fei Ji were installed for the exhibition The Intimate Universe, crates of framed watercolors and delicate scrolls arrived at the Wellin's Material Preservation Lab. The lab--a fish tank-like enclave in the museum's Eastern wing--is a temporary home to objects on loan as they await their final destination in the gallery space. They are under strict scrutiny and must undergo a series of checks to ensure that their condition meets that of previous inspections.
I was tasked with condition-checking several of Yun-Fei Ji's pieces under the supervision of the Wellin's Collections and Exhibitions Specialist including the sketches that currently hang on the wall behind the moon gate, as well as the three-dimensional piece Three Figures that the artist completed during his residency at Dieu Donné papermill. I made note of every minute tear, dog-eared corner, dimpled edge, abnormal watermark, and dust particle on each work. I marked each abnormality on printed photographs of the works, which resulted in a path of chicken scratch across their respective surfaces. As I crept along the line of drawings, slow and attentive, I followed the strokes of color, which the artist had brushed swiftly and carefully across the page to depict moments of his acute awareness of his environment. In completing this task, I felt as if I had become part of the art itself instead of just being an objective eye.
I hadn't realized just how enraptured I was in the work until I was crouched on the floor, eyeing the dark recesses of Three Figures (which depicts bodies decaying into the earth) and noticing a small hair mere inches from my nose. Even though I could have plucked it from the paper bone, I am not authorized to touch objects on loan, and thus had to leave the hair lying listless beneath a sculpted skeleton.

The process of condition-checking can be tedious. It is repetitive and a strain on the eyes, yet it is also completely gratifying. Walking through the exhibition after everything was installed and seeing the pieces I had so carefully inspected allowed me to appreciate the work on a much more intimate level. Not only had I been up close to the art, but I had forged a personal relationship with the objects, a microcosm within Yun-Fei Ji's The Intimate Universe.
More Blog