Collaboration in Creating Exhibitions
Author:
Alexander Jarman, Assistant Curator of Exhibitions and Academic Outreach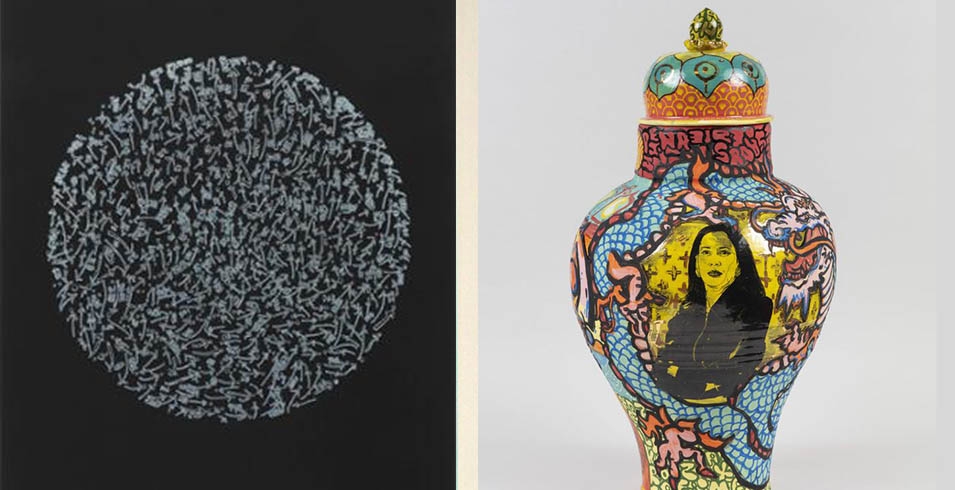 Wednesday, August 3, 2022
I still get surprised at how often I am asked "so…what does a curator do?" It is a fair question because the answer can be hard to pin down and, spoiler alert, I will not be offering any clear answers here myself. But one aspect of curatorial work I can speak to in this blog entry is the role of the convener, of someone who gathers many different people around a great idea and a tough question to be answered, or a possibility to be explored. A contemporary art curator does not only identify talented artists for exhibitions, they also collaborate with a wide array of people both inside and outside of the institution. Due to the Wellin's status as a teaching museum, I'm also always thinking about which professors and students could collaborate with us on our exhibitions, if not also directly with our exhibiting artists.
In the case of our upcoming exhibition, Dialogues Across Disciplines: Building a Teaching Collection at the Wellin Museum, many aspects of the exhibition planning process have largely been the same as other shows I've worked on. The checklist has expanded and contracted, the associated programming has grown substantially, and the gallery layout will continue to evolve until the moment objects are hung on the wall. These are things I expected, but what has surprised me is how much richer the exhibition content and the interpretation of our collection can be through collaboration.
The idea of collaboration enriching this exhibition is perhaps best born out of the label writing process. We invited staff, faculty, and students from various departments, disciplines, and majors to write a label for their favorite work in the show. Inviting collaborators to the label writing process is not necessarily new nor radical, but our status as a museum located on a college campus uniquely positions us to take advantage of the myriad perspectives and diverse viewpoints of many different specialists. To illustrate this concept, I'll offer a few examples.
In response to Edgar Heap of Birds' No Zone Today (1990) one of our literature professors wrote an original poem, creating a label in which one art form helps contextualize another. For Howardena Pindell's Constellations (2015), we asked an astrophysicist at Hamilton to write the label. A government professor offered her thoughts on the visage of Kamala Harris for the label about Roberto Lugo's First (2020). While I could have written a text myself for any of these works, in each case I probably would have focused on the artist and their creative process. Thanks to our contributors, these labels are far more nuanced and they have provided me with more ways to approach discussing the work during tours. Furthermore, our collaborators have taught me more about our collection overall, even works I thought I was already very knowledgeable about. Take, for instance, Gerald Cyrus' Mulgrew's Motion (Mulgrew Miller), Los Angeles (1986), a cropped view of musician Mulgrew Miller at the piano. As a jazz fan, I was well aware of both the subject and the photographer. But then I discussed the work with one of the lecturers in the music department (who subsequently wrote a label for this piece). Our conversation was humbling, a great reminder of how many ways there are to look at art, to think about art, and ultimately to understand why visual art means so many different things to different people.
So, in many ways these collaborations have already taught me a lot about the Wellin's collection. The ultimate test of the exhibition's efficacy and utility will not occur until it opens to the public and course visits begin. What I am already looking forward to, though, is undoubtedly how those engagements will continue to teach me more.
---
Image Credits: (see slideshow, top of page)
First Image:
Howardena Pindell, Constellations, 2015 (left). Roberto Lugo, First, 2020 (right).
Second Image:
Edgar Heap of Birds, No Zone Today, 1990 (left). Gerald Cyrus, Mulgrew's Motion (Mulgrew Miller), Los Angeles, 1986 (right).
More Blog