Gift to Wellin Museum Featured in Artdaily.org Article:
Eli Wilner & Company craft a custom frame for the Wellin Museum as a gift to Karen and Kevin Kennedy.
Photo Credit
Detail, Alpspitze, Mittenwald Road from Gschwandtnerbauer, c. 1933. Oil on cardboard. 17 9/16 × 29 9/16 in. (44.6 × 75.1 cm). Collection of the Ruth and Elmer Wellin Museum at Hamilton College. Gift of James Taylor Dunn, Class of 1936. Framed by Eli Wilner & Company.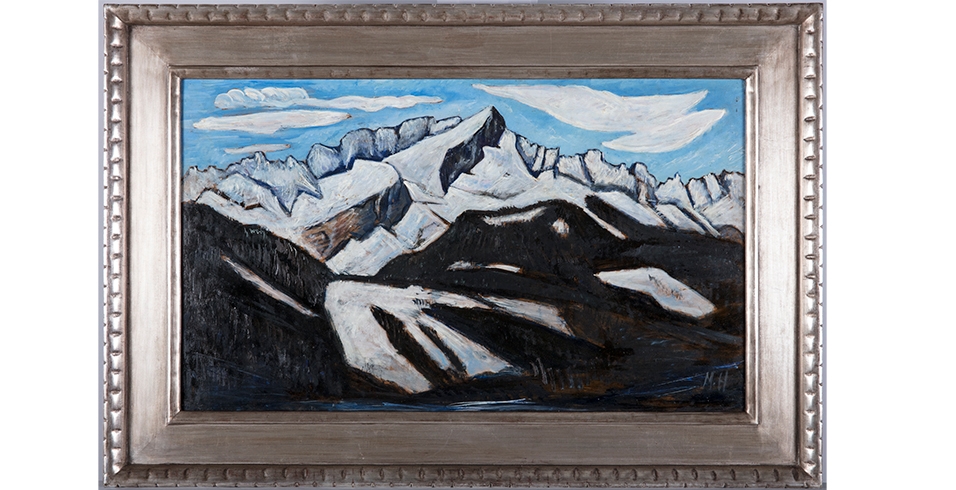 NEW YORK, NY.- In a continuation of Eli Wilner & Company's latest philanthropic efforts, an exceptional frame has been crafted for the Ruth and Elmer Wellin Museum of Art at Hamilton College.
As a gift to philanthropists and collectors Kevin and Karen Kennedy, who generously lend their support to notable institutions such as The Metropolitan Opera and The Whitney Museum of American Art, Eli Wilner offered to create a replica frame for an artwork in an institution of their choice. They selected the Wellin Museum of Art at Hamilton College, with which the Kennedys have worked to greatly enrich and expand their arts program.

With this gift, the Wellin Museum elected to re-frame an exquisite Marsden Hartley oil painting from their collection, "Alpspitze, Mittenwald Road from Gschwandtnerbauer" (c. 1933), which will be included in their forthcoming 5-year anniversary exhibition, opening in the fall of 2017.

In selecting a frame for the Hartley, Eli Wilner collaborated with the Wellin Museum to identify styles that Hartley frequently returned to for his work. Of note was the silver-gilded frame used for a painting similar to "Alpspitze" called, "Garmisch - Partenkirchen", (c. 1933), which is also by Hartley and resides in the collection of the Milwaukee Art Museum. Together with the Wellin Museum's curatorial team, it was determined that a frame with a similar design and silver finish would be best suited to "Alpspitze" both historically and aesthetically.

A search of Eli Wilner's inventory produced a remarkable mid-20th century American period frame with both a silver-gilded surface and a hand-carved rhythmic detail at the outside edge. The carving resembles a "wormy chestnut" style of frame consistent with the period, and closely associated with Hartley's work, as in the example of "Mount Katahdin Maine" (c. 1940). Eli Wilner master carvers, gilders and finishers replicated this period frame using the same techniques that would have been used by the finest frame makers in America during the 1930's, and all were pleased to be able to present their work to the Wellin Museum of Art as a part of the Eli Wilner & Company Museum Gifting Program.
http://artdaily.com/news/93345/Eli-Wilner---Company-gifts-frame-to-the-Ruth-and-Elmer-Wellin-Museum-of-Art-at-Hamilton-College#.WItS1mQrJFR
More Blog