Evening of Art for Educators
Author:
Amber Geary, Museum Educator and Docent Program Supervisor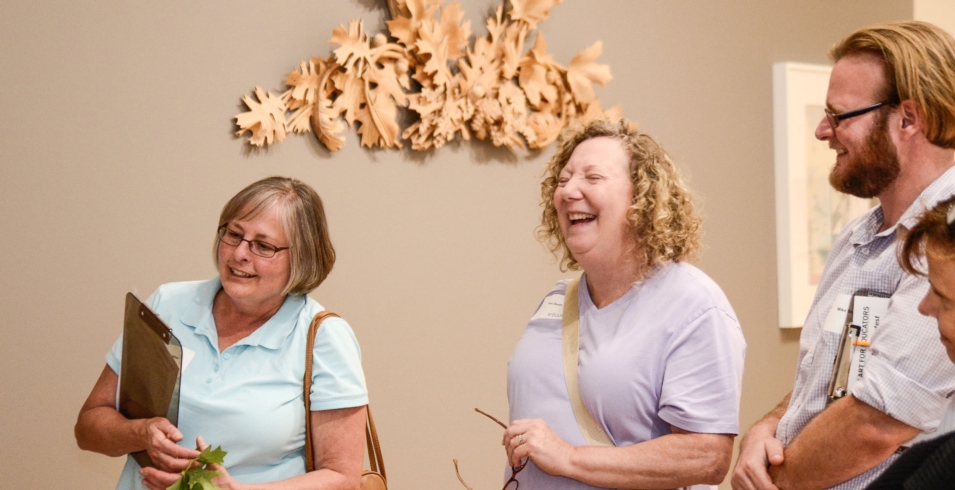 Earlier this month, the Wellin Museum of Art hosted An Evening of Art for Educators. This biannual event invites K-12 educators and administrators to experience our current exhibitions and to discuss ideas for tours and lessons with colleagues and museum staff. The event also gives teachers a chance to collaborate across disciplines and school districts while earning professional development hours that relate to what they teach in their classrooms. As part of the festivities, the Wellin hosted a contest that invited educators to select a piece of art that inspired them to create a lesson.
Wellin student docents stationed throughout the Dietrich Exhibition gallery and Archive Hall provided visitors with information on the exhibitions while also engaging in conversation and exchanging ideas about This Place and Margarita Cabrera: Space In Between. Reflecting on the event, Saige Devlin '18, an art and neuroscience double major, shared that, "its always inspiring to see how excited teachers are when viewing the artwork. I think they really enjoy the idea of integrating new and interesting subject matter into their coursework. I saw a math teacher trying to come up with ideas on how to integrate Margarita Cabrera's sculptures into her math classes!"
As the educators moved through the museum, conversations about the art abounded, along with an exchange of ideas with Wellin staff. We look forward to seeing everyone again in the fall!
More Blog