Fall Happenings at the Wellin
Author:
Michelle Reynolds, Interim Curatorial and Programming Coordinator
Photo Credit
John Bentham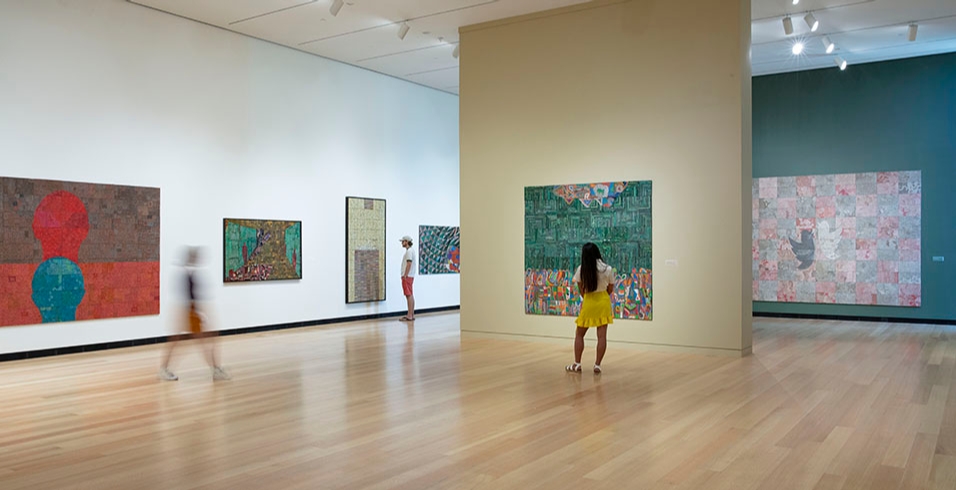 It's been a busy fall at the Wellin! Earlier this month, the museum opened Elias Sime: Tightrope, a survey of work from the past decade by visual artist Elias Sime. The exhibition explores Sime's process, which brings together repurposed materials such as computer keys, motherboards, and electrical wires to create complex tableaus. Drawing upon their materiality, these works comment on ecological sustainability, the resilience of nature, social responsibility, and the beauty of the utilitarian. Through the series title Tightrope, Sime recognizes the uneasy balance between the advances made possible by technology and the impact they have had on our humanity and environment. He deconstructs these means of communication to expose their internal dynamics, allowing for a new lyricism and energy to emerge. From the brushwork of the Impressionist painters to the Twitter logo, from Socialist Realism to topographic photography, from linguistics to botany, all sources are open for interpretation.
As a teaching museum, the Wellin presents exhibitions that are interdisciplinary, fitting into coursework across the liberal arts curriculum. Elias Sime: Tightrope is no exception, with faculty across the curriculum finding interesting and innovative ways to incorporate the exhibition into their coursework. This semester, the Wellin is excited to welcome nearly 20 college-level courses from departments including art history, communications, environmental studies, and psychology. The variety of class sessions, assignments, and experiences illuminate the dynamism inherent to teaching and learning with museum exhibitions.
In addition to interesting exhibition activations, Elias Sime: Tightrope has also been mentioned in these recent features:
ARTFORUM: Interviews: Elias Sime; Elias Sime on Living and Working with Technology
Hyperallergic: Love and Craftsmanship in the Relationship Between Machines and Humanity
New York Times: Don't Miss These Art Shows and Events This Fall
More Blog