Cataloging Thomas Nast: An IFPDA Internship
Author:
Mary Bei Prince '20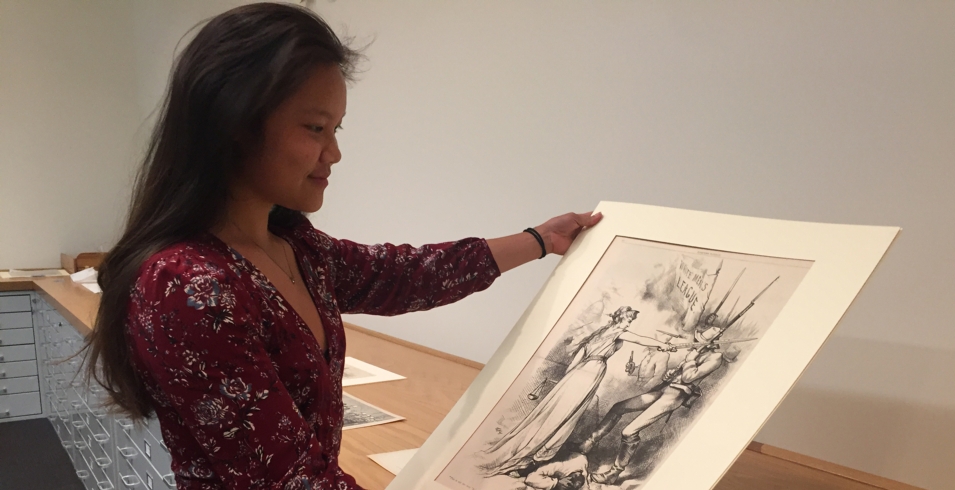 Over the past seven weeks, I acquired first-hand curatorial experience as the Wellin Museum's International Fine Print Dealers Association (IFPDA) Summer '19 intern. Working under Katherine Alcauskas, the Museum's Collections Curator and Exhibitions Manager, I catalogued and conducted contextual research on mid-to-late nineteenth-century published illustrations by Thomas Nast before curating an installation of the material in the permanent collection gallery. In the first week, I completed a paper-handling training, commenced preliminary research on the politics of the nineteenth century, and began to learn The Museum System (TMS), the cataloguing database. I continued to catalogue illustrations throughout the summer. During the second week, I shifted my research to focus on the print-making process and materiality of newsprints. My examination of Nast's personal life commenced in the third week, as I consumed a number of biographies and visited the Hamilton College Archives for further materials. The fourth week involved collaborating with Alcauskas to formulate a theme for the installation; ultimately, we chose to dissect Nast's depiction of women in political cartoons. Then, I formulated exhibition checklists during the fifth week and wrote didactic labels during the sixth week. Finally, I devised matting options and formulated the layout of the cases with Chris Harrison, Building Manager and Museum Preparator, and Jenna Carro during the seventh week. This position entailed extensive independent work supplemented by weekly check-ins.
The IFPDA summer internship afforded me effectual knowledge on the curatorial procedure and its place within the museum field. Direct handling of the illustrations compelled me to contemplate the visual components of the works and analyze the physical and ideological creation processes behind them. I gained insight into the housing and maintenance of aged works on paper. Cataloguing allowed me to contextualize the extent of the 1,000-piece donation as I witnessed the socio-political fluctuations within three decades. The independent nature of the position allowed for personal and scholarly growth, allowing me to improve my time management and expand my depth of research. Additionally, the Wellin Museum's focus on education allowed for enriching experiences. For example, Alcauskas and I coordinated with Mary Murray, curator of Modern and Contemporary Art at the Munson Williams Proctor Art Institute in Utica, NY, to view their comparative print collections. I examined the stylistic transformation of images that were adapted to another medium (from a photograph to a print), the visual impact of differing woodblock techniques, and the historic use of caricature. This visit informed my understanding of career specificity at a larger institution as I had attended weekly one-on-one lunches with various members of the Wellin Museum's staff to discuss their individual museum experiences and career trajectories. Through this opportunity, I developed skills pertaining to the curation process while contextualizing their significance within a small contemporary museum.
More Blog